Springtime greetings from Princeton Renaissance Project! 
As flowers bloom, the neighborhood is bustling with new energy.  With the addition of Gary Bowling's House of Art's energy into the mix of an already vibrant scene, you can feel the community spirit multiplying. People are running into each other on the sidewalks, sharing conversation and enjoying this community that has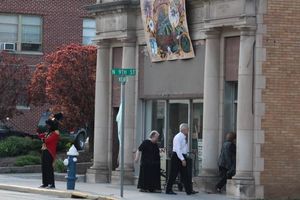 developed.  Several downtown businesses participated in the first "Night on the Town" event, presented in cooperation with Concord University, which included live music, live art demonstrations, special deals for students, a fun scavenger hunt and more. There was a ton of energy on the street, creativity abounding, and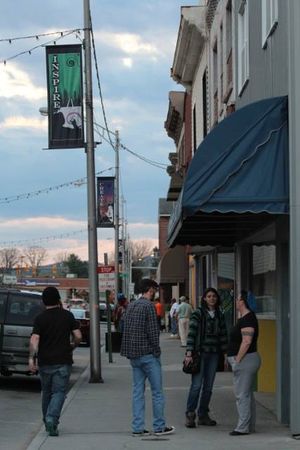 pure potential swimming like electric currents through the air. The event allowed students to discover what downtown Princeton has to offer, and it was a hit. This is likely a tradition that will continue quarterly, so stay tuned. It was so much fun to see people of all ages running around with their scavenger hunt papers hustling from one location to the next and exploring places they've never been. Click here for photos of the fun: A Night on the Town. 
The auction fundraiser for the theater was a smash hit! We raised about $4,000 for the restoration. Thanks so much to the amazingly talented artists for their contributions, especially Rita Montrosse who went the extra mile organizing the artists, City National Bank and PMCCC for sponsoring the event, Chuck Mathena Center for hosting, Mike & Anita Eades of 4 Seasons' Antiques for facilitating the auction, everyone that attended and those that bid. The tiles and speakers were a sight to see, and truly one of a kind pieces of history. You can view the works here and profiles of each of the artists here. What a great night for the Renaissance!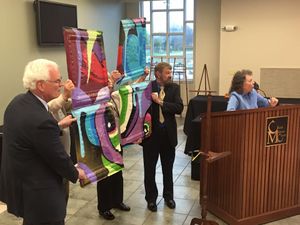 The theater is fully gutted and ready to be re-built, and with that, it is time to amp up the fund-raising. Please stay tuned as we announce a variety of ways you can contribute to the theater project, as well as the overall revitalization of downtown. 
Soon, the Cruise In Nights will begin, and Music in the Square as well. Celebrate Princeton Street Fair is also approaching. Stay tuned to our Events page, princetonrenaissanceproject.org/events, to keep updated on happenings. 

May 16-23, the 7th annual "All Together Arts Week" will bring together creative people from around the county and beyond, and showcase the vibrant landscape of arts activity our area is home to. The    week-long event features a "Circle Talk" for networking among creative people, gallery hops aboard a special trolley in Princeton and one in Bluefield, and a grand finale parade and day of merriment in downtown Princeton. This is one of the most colorful and whimsical days of the year on Mercer Street, and it is a sight to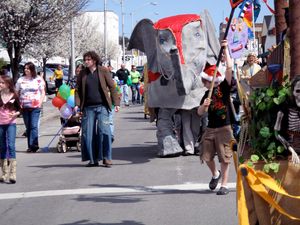 see. If you want to see the creative community in peak form, plan to attend this event May 23rd. Visit alltogetherarts.com to find a full schedule of the arts activity taking place around Mercer County that week. Let's celebrate the vibrant creative community we are so lucky to have!
The City of Princeton is working hard as always; the landscape of the Town Square is looking beautiful and the rest of the city is also beginning to bloom. The tulips are so bright and you can feel the energy of change in the air as the city hall prepares for its big move to the Dean Property on Stafford Drive. New colorful benches are on the way, and a wall is being prepped for the next mural- a tribute to Bob Denver. Stay tuned for news on that project. The property next to Service Cleaners was demolished on Friday and cleared a problematic eye sore, hopefully making way for new development. What would you like to see happen there?

The Railroad Museum is gearing up to become "the talk of the town." New signage is on the way, expanded hours are already in place and they have launched a beautiful new website. Check it out here: princetonrailroadmuseum.com The museum will also be a part of a special museum tour for WV Day June 20th. Watch out for details on that event. 
On May 28th, New River Community & Technical College will host an entrepreneurship competition called "Small Town, Big Ideas!" 5 participants will pitch their business plan idea for downtown Princeton and vie for the audience's votes. The prize pool includes $1,000 cash, a free month's rent in a downtown storefront at 746 Mercer Street, gift cards and more. What an excellent way for the college to support entrepreneurship and the revitalization. For more information, contact Jill Holliday at New River.
Golden Rule Montessori Preschool is on track to open this summer and other businesses are incubating. Stay tuned! If you haven't seen the new downtown business directory on our website, check it out here: princetonrenaissanceproject.org/businesses. If there is a business you would like to add, please write to us.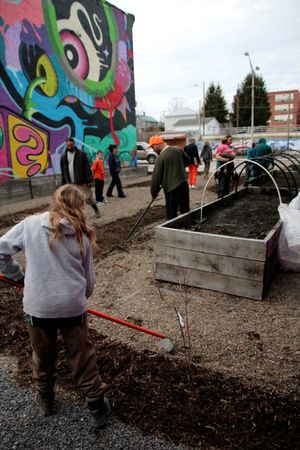 The Community Garden is beginning to sprout and volunteers are pleased with progress. If you'd like to get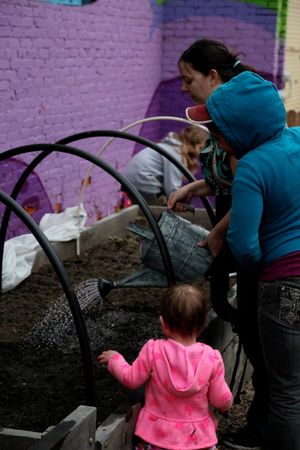 involved, please shout out! We'd love to have you join in the fun. 

If you would like to get further involved in the conversation surrounding the revitalization,  please attend one of our "Renaissance Rap Sessions" which take place every Third Thursday at 8pm at The Turnaround Concert & Gathering Hall at 855 Mercer Street. Everyone is welcome to come share ideas, meet new friends and be a part of the change. 
Thank you so much for your continued support and interest in the Princeton Renaissance Project!