Autumn Greetings to you from Princeton Renaissance Project! 
The momentum and excitement continues to build here on Mercer Street! Multiple building renovation projects are underway, new endeavors are brewing, and ground work continues to be laid for this emerging downtown scene. This is a transitional phase; there is dust flying and much to be excited about that is just around the corner, so close you can taste it. At the same time, there is plenty of buzz-worthy action happening as we speak!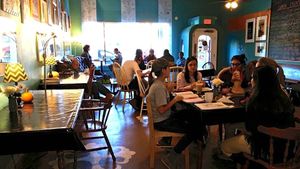 Business is picking up for our newest hub The Local Mo'Joe. They've introduced an absolutely delicious lunch menu, and they are establishing a loyal following that appreciates their commitment to clean, healthy eating and supporting the local economy. On Saturday, November 14th from open at 7:30am until close at 7pm, there will be a benefit concert called "Music For Mo'Joe" to raise funds for the licenses that are necessary to host live music regularly. Once that happens, expect to see live music often at the coffee house!

New businesses like Myra's Floral Shop are going strong and aspiring entrepreneurs are investigating possibilities. 

Most recently, Explore! Science Adventures has acquired a space to settle in which is very exciting. Their building, the former home of "Pam's Place," will soon house after school activities, science camps and more. Golden Rule Montessori School opened its doors this fall and welcomed a full roster of students. They too host science camps and a variety of creative educational programming. Valley College has a new HVAC and MCA Lab in the old Dollar General building, and this is great development! Mercer Street is becoming a hub for education and culture! 
Tonight, Friday evening (10/24), is Poetry Night at Local Mo'Joe. In cooperation with New River Community & Technical

College, this evening will celebrate Appalachian heritage, and will continue the push for the college to integrate with and nurture the cultural resources of the downtown community. Last month NRCTC hosted a murder mystery dinner theater, featuring local artists and beginning at the coffee shop. It's great to see the college beginning to fulfill the vision of a fruitful scene with college students involved in the creative comeback on Mercer Street.
ResCare has expanded their offices and now inhabits multiple units on both sides of the street. Sam's Bar (Modad's) recently re-opened in grand fashion! With a little help from the beautification grant provided by The City of Princeton along with a major personal investment, this landmark business was able to give itself a make-over and be re-born with upgraded decor and expanded offerings. They've been hosting live music since opening, and it appears to be a hopping joint!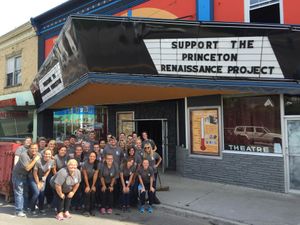 In very very exciting news, this Saturday (10/24) at Chuck Mathena Center, we will release the Vision Plans for The Renaissance Theater! After months of valiant, dedicated volunteer labor, we are ready to build! Elevation views of the purposed interior will be on display, and we are so excited to launch this next new exciting chapter. If that's not exciting enough, we are pleased to announce a special screening of the new movie "Woodlawn," starring Princeton native Kevin Sizemore, that night. What a special occasion! Click here for details.
If you haven't been inside the theater lately, you wouldn't recognize it. It's amazing what heart, soul and sweat equity can accomplish. Super volunteers Jennifer Farmer and Greg Puckett along with the angels Betty and Ed Sherriden of The Church of Jesus Christ of Latter Day Saints of Bluefield, have led scores of dedicated volunteers in gutting the old Royal/Lavon movie theater. Students from Concord University from Chi Omega Psi, a social fraternity, Make A Difference Day, ALEF, Bonner Scholars and other volunteer groups have all contributed, along with Brookwood Community Church from Simposonville, SC and American Heritage Girls. What an amazing show of generosity and community spirit! Many special thanks go out to all of these wonderful and hard working folks who are making it possible for us to bring the vision of The Renaissance Theater to fruition. Rita Montrosse and the rest of the design committee have been working closely with ETB Architects preparing plans. If you'd like to see what the future in the theater looks like, join us Saturday night at CMC! 
So many wonderful groups of people are working in various ways to improve our downtown. From the business owners to the volunteer groups to various event organizers to the wonderful City Works Department and The City of Princeton, there is an tremendous amount of sustained community spirit in the air. 
Autumnfest was a great success. The Princeton-Mercer County Chamber of Commerce does a stellar job with this annual festival, and even though it rained most of the day, there was an excellent turn out. People had a wonderful day exploring vendors, listening to music, catching up with friends and enjoying the scenery.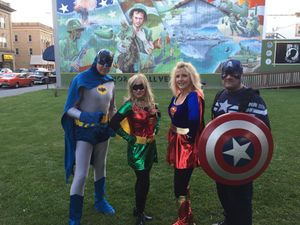 Teresa Catron and her amazing team of volunteers put on another stellar Cruiser's Reunion! Tons of cars packed the street, many classic cars showed up and it was a nostalgic evening full of good old fashioned fun! The monthly Cruise-In's on the third Saturday March-October went off without a hitch, bringing all kinds of folks downtown to enjoy. Richard Smith, John Pack, Renee Short, Keith Williams, Greg Puckett and Jennifer Farmer are among the super heroes who make this event happen. The final event of the season, The Creepy Cruise, was especially enjoyable. As you can see in the photos, it was a super fun night. Watch for this special event to grow for years to come. 
Gary Bowling's House of Art is getting closer and closer to opening. Some set-backs slowed their progress, a common experience when renovating these historic structures, but they are now plowing through, energized at the prospect of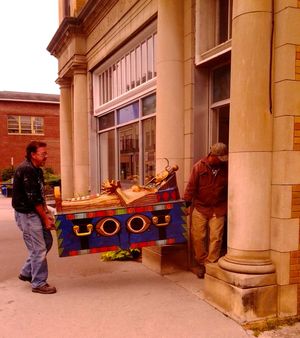 finally opening their doors! "The Queen" is now in the building, and there is a very special story about her. Read all about her and their special gold brick fundraiser here.
Dayfly Books and Collectibles has been busy promoting on Etsy all the antiques, vintage clothing and jewelry they have in addition to all the wonderful books on their ever-rotating shelves. They've also been hosting community events and classes in food preservation, gardening and more. Princeton Public Library, as always, has been presenting consistent programming. They're gearing up for their 4th annual Life Sized Candy Land on Halloween night! I like to think of this section of town as literature corner, with the library, book mural and bookstore. 
"The Gaia Den" Yoga studio is still trucking along in the historic district and hopes to open ASAP. These old buildings bring so many unforeseen challenges, and we salute every one of the entrepreneurs and property developers taking the risk and bringing a vision to life. If you'd like to help her give rise to this dream, you can support the cause here. 
The RiffRaff Arts Collective launched a monthly series called "Community Art Talks: Bridging the Gap Between Art and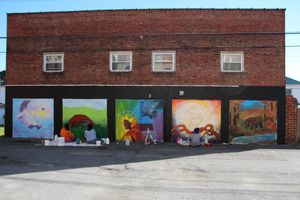 YOU" in The Room Upstairs. The idea is to communicate the accessibility of art, that it is not something for the intellectual hierarchy, but for everyone to enjoy. The talks feature a different artist each month and are free and open to the public. The artists of the collective also began painting a new mural in the alley behind their gallery; a project that has been a year in the making! It's amazing the amount of detail work that goes into putting a project like that together.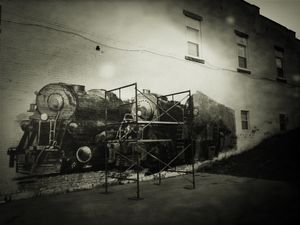 Meanwhile, in the historic district, artist Richard Shrewsberry is busy painting a long-awaited work of art honoring the legacy of our town's railroad history. Pat Smith and Martha Barberio worked hard to secure funding and details for the project, which should be complete by season's end. The Railroad Museum, under the new directorship of Pat, is seeing record numbers of visitors. Way to go! In addition, Bruce Doom, husband of our outstanding city manager Elke, is busy crafting the base for the model railroad which will soon become an attraction at the museum. Stay tuned for progress here. 

Diamonds and Gold Look continues to push the envelope with unique marketing plans, new websites and art exhibits. Check out his new website promoting Princeton here: rediscoverprinceton.com.
Businesses like Tony's Barber Shop, The Wearhouse, Hillbilly Cycles, Sly Fox Shoppe, The Music Exchange, Diamonds and Gold Look, Total Health & Healing Concepts, Kimberly's Salon, New Kids on the Block Consignment, Kidz at Heart Day Care, Service Cleaners, Muffler Man, Oasis Market and so many more continue to provide service to our community, working daily to make Mercer Street a viable downtown business district. 
Volunteers are still meeting regularly talking about ways to energize downtown. Jumpstart Princeton meets Wednesdays at Local Mo'Joe, and everyone is welcome to join in the conversation. Sam Franz and the gang are busy organizing the 3rd annual Halloween spectacular "Mercer Monster Mash." Shops will be open giving out candy and there's a full roster of activity from a costume contest to an investigation by the paranormal society to a midnight showing of Rocky Horror Picture Show. This event has been a smash hit! Downtown Princeton is the place to be Halloween night!!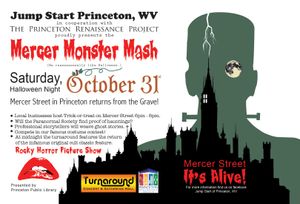 Some star citizens have emerged through all this activity. One clever volunteer who is full of big ideas developed the character "Franklin Stein" the first year of the Monster Mash, and he can be seen all over Princeton taking photos with business owners, artists and more highlighting his love for this town. Dave Herter runs the Small Businesses of Princeton facebook page, and his loyal promotion of local businesses has been a great resource during this time of growth. Vicki Robertson runs the "You Know You're From Princeton" Facebook page where people from all over who love our town connect, share memories and conversation. There are many, many people doing wonderful work and contributing to this revitalization all over town, and it would take days to mention them all!  
 
The Renaissance is Alive and Well! Please join us for one of the special events listed below, or stop by one of the many independent businesses and shop local! Find a listing of our downtown businesses here: princetonrenaissanceproject.org/businesses. 
AUTUMN EVENTS:
Friday, Oct. 23- Poetry Night @ Local Mo'Joe- 929 Mercer Street (INFO)
Saturday, Oct. 24- Special Screening of Woodlawn & Unveiling of Renaissance Theater Vision Plans @ Chuck Mathena Center - Doors open at 6pm (INFO)
Saturday, Oct. 31- Mercer Monster Mash, a Halloween Extravaganza! (INFO)
Saturday, Nov. 14- Music For Mo'Joe - 929 Mercer Street (INFO)
Keep up with the EVENTS page on our website for a full listing of upcoming events. princetonrenaissanceproject.org/events 




Make plans to spend New Year's Eve with us here for our third annual Downtown Countdown, an epic celebration to ring in 2016- a family friendly celebration with four stages of live music, street performers, a ball drop and fireworks at midnight. You can enjoy the toasty indoor settings and then head out for the ball drop when it's time. We'll reflect on the awesome progress that's been made and make way for another year of it! Stay tuned for details!

Thank you for supporting The Princeton Renaissance Project!!! 



by Lori McKinney