Greetings from snowy downtown Princeton, WV! 
It is a winter wonderland out there, and Mercer Street wears the white stuff so well. Residents have been bundled up walking around enjoying the beautiful atmosphere; some have created art in it and there is a nice neighborly feeling among those who live downtown. We've seen plenty of people helping each other- digging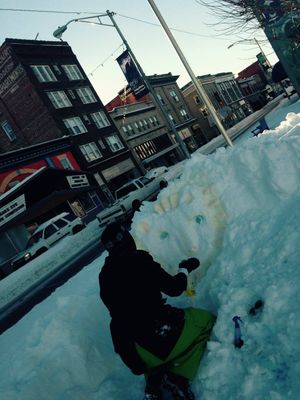 and pushing vehicles as they spin in the snow. What an equalizing human experience. I think our wonder and delight at a crippling snow event speaks to our innate desire for something extra-ordinary, a step outside of the box of our day to day lives. I have very much enjoyed walking outside and saying hello to the neighbors, sharing a laugh and a smile. I really love living in this neighborhood.  

The murals look absolutely beautiful, so vibrant against the snowy white backdrop. The Christmas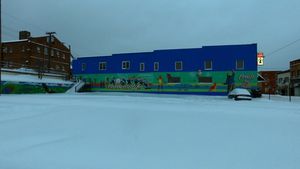 lights criss-crossing the street twinkle against the frost and some say it makes them nostalgic for the yesteryear of Princeton. Downtown is alive and glistening with potential.  


Since my last blog, new business development has continued. Mama Kay's This Is It Restaurant and Catering opened in the historic district near the train museum. Welcome, Mama Kay's! The food is delicious and the customer service is excellent. Mama Kay and her crew are here to bring down-home cooking and sprit to Princeton.

Fredeking Construction is doing a remarkable job with a full renovation to 941 Mercer Street, directly across from the library. They sought historic design consult and their work reflects the style of the 1940's. The facade looks terrific and it is inspiring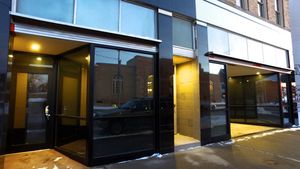 passersby and other potential investors. As always, handfuls of interested investors and entrepreneurs are sniffing around, scheming and dreaming, asking questions and shopping for real estate. It is no secret that there is a real opportunity here, and a garden on the cusp of full bloom.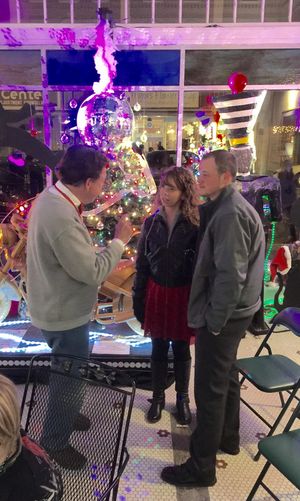 Gary Bowling's House of Art is within days of opening their doors to the public. Gary and his amazing crew have honored the craftsmanship of the old savings and loan building so beautifully. The work ethic they display is off the charts. Gary restored this staircase on his hands and knees; scraping years of paint off with razorblades. Their arrival on the scene is the beginning of the next level of the arts movement on Mercer Street; the creative forces that are joining together now are about to launch into orbit.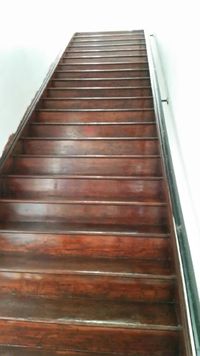 Stay closely tuned to all that is to come; the future is so bright. The House of Art was open on New Year's Eve with a temporary permit to the delight of many. Hundreds of guests filed through and marveled at the spectacle.  
Explore! Adventures in Science and Civics is moving closer to opening; they are working wonders inside the building at 852 Mercer; tearing down walls and making room for a laboratory, space for experiments and other activities. This is a very exciting development for Mercer Street. As we seek to define our future, science, technology and innovation should be at the forefront of our priorities. The type of activity and scene that Explore! will bring is precisely what will attract forward thinking creative minds to join us in using our imaginations to solve problems. Together, we can design a whole new chapter of life, re-imagining opportunities here in Appalachia. 


The theater is inching closer to the beginning of the construction phase. It is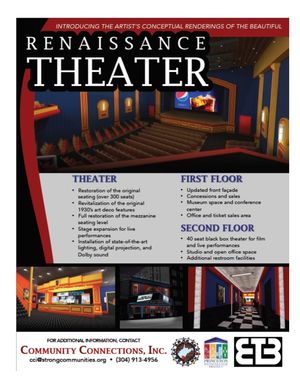 breathtaking inside- completely gutted and wide open. It is now time to begin bringing in the new materials and shaping what will become The Renaissance Theater. The designs shown here are the result of months and months of planning and collaboration with ETB Architects and the dedicated theater design team. The dream is becoming reality! At Christmastime, the ever-energetic Greg and loyal volunteers handed out beads and stopped traffic in the street to raise funds, as the financing of the theater will be an ongoing effort that needs consistent support. The community has been so so good to this project! It is amazing what this theater means to people, and it is heart-warming how much the effort is appreciated. Thank you!  
There are a few new murals in town! This collaborative piece, created by six artists from The RiffRaff Arts Collective- Stefani Slaughter-Burchfield, Kira Shoemaker, Carla Fry, Crystal Atwell, Loren Morris and Jordan Kelly- brings light and brilliant color to the alley behind the theater. We call it Artists' Alley #2, and we hope that we can extend the concept all the way down to the alley's end in the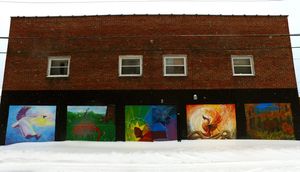 years to come. 
There have been several great events since my last blog. The first poetry night in collaboration with New River Community & Technical College, Local Mo'Joe Cafe and several area poets was a great success. The room was packed and engaged; the work shared was nothing short of brilliant. Rachel Parsons of Dayfly Books & Collectibles hosted the night, themed "Celebrating Life in Appalachia."  A daughter of these hills and a lover of Appalachia, this young woman is a remarkable asset to downtown Princeton. She is a tremendously gifted writer, and has dedicated her life force to creating a hub for lovers of literature, writers, concerned citizens and the people of our community. She is giving the ultimate gift, sacrificing what would be considered a normal life for a creative young adult from this area- going to a city where her talent would be immediately appreciated and rewarded. She has traded that route for the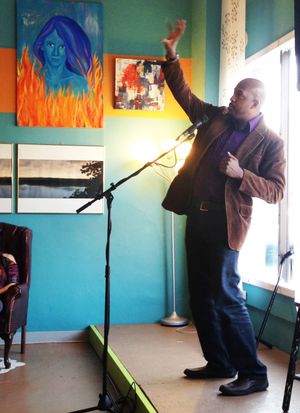 significantly more difficult and challenging path of establishing a business to benefit her community. Dayfly Books and Collectibles is an extraordinary asset to our area, and we should do everything we can to support this effort.  
It was at Dayfly where the idea for the Mercer Monster Mash Halloween extravaganza was born. Volunteers were meeting weekly to explore ideas for bringing energy and life back to the area, and they came up with the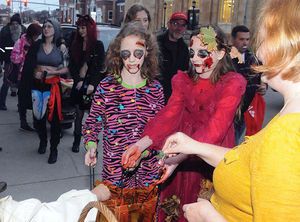 idea of Trick of Treat on Mercer Street. The 3rd annual Mercer Monster Mash this past Halloween was a spooctacular success! Record crowds of trick-or-treaters flooded the street. This photo is from Bluefield Daily Telegraph's front page coverage of the event. Princeton Public Library hosted their biggest crowd for life-sized Candyland to date and later that evening, about 50 people toured the railroad museum with Appalachee Paranormal Society, and a couple hundred guests packed The Turnaround for a midnight showing of Rocky Horror Picture Show. This event has quickly become a cornerstone of the social scene and downtown event line-up. it seems our network of people have a tremendous love for Halloween!  


The Railroad Museum continues to thrive under its new leadership. The train mural is nearly complete, painted by the extraordinarily talented Richard Shrewsberry, and the model railroad display is still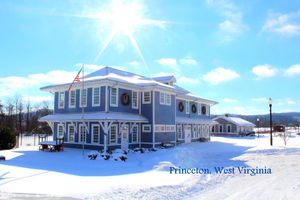 underway. They hosted a special showing of Polar Express for Christmas, and they will continue that tradition next year. They featured music by Stages Music School students and hot chocolate after the Christmas parade, which was truly fantastic this year! Groups went all out with their creative floats!  Angie Browning Alvis took this beautiful photograph of the museum all dressed up in a fresh coat of paint, accented with white snow and glistening in the sun.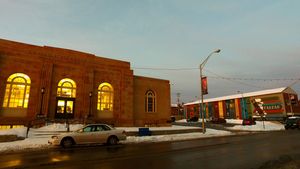 As always, Princeton Public Library has been hosting wonderful programming, from movie nights to lego building to story time and my personal favorite- Mine Craft Mania. We are lucky to have such a fine library with quality, innovative programming and mind expanding experiences right here in our neighborhood.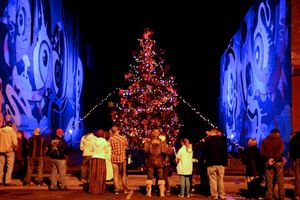 For the past few years,  Greg and Rita Montrosse have been longing to have a giant community Christmas tree. Well this year, with the assistance of Greg's dad and a slew of awesome volunteers, that dream came to pass. It was a last minute thing, and we went back and forth on it several times before we finally went with it. Mr Puckett called and said he had the tree, and it was on. They decorated an enormous glowing evergreen for the community garden! It was so beautiful! Robert Blankenship (our downtown technical guru) lit it in colorful LED lights, and we gathered for the inaugural tree lighting ceremony on the Saturday after Thanksgiving. Tim & Maggie Mainland played carols and we all stood in awe of this tree, and the feeling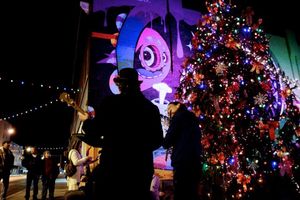 of community spirit that night. It's a good energy down here, folks. People who travel from out of town say they can feel it. One traveling artist that fell in love with the energy and decided to stay here cited as his reason, "Princeton has a pulse; something's happening and it's really special."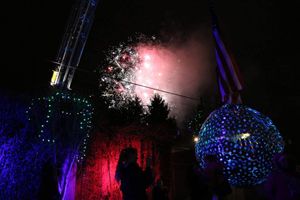 The Downtown Countdown was a great success. Audience numbers jumped significantly, as over a thousand people filled Dick Copeland Town Square to ring in 2016. So many people gave their time and talent to make this event possible. Many thanks to LLyniuM entertainment for the great production and Princeton Fire Department for their above-and- beyond efforts with the ball drop and fireworks. This year, the ball got a new frame thanks to Michael Ellis, brother of Erica Ellis Bartling of Community Connections. Original ball designer and artist Stefani Slaughter-Burchfield, joined by some helpful creative volunteers, doctored the new ball to its shiny, glowing glory. Jennifer Farmer & Community Connections made sure all the forms were in place to facilitate the spectacular fireworks display by Pyrotechnica, so thanks to them, the school board and all the neighbors for their cooperation. A huge thank you goes to Ramey Toyota for sponsoring the fireworks! Thanks to all the wonderful sponsors (find a full listing here), the scores of volunteers, the artists and performers. Local artist Isaac Preston crafted a beautiful New Year's wishing tree out of wire donated by AEP, and guests hung their wishes for 2016 on its branches. Thank you Isaac and AEP! Thanks to Princeton Police Department for their strong presence, and to public works for all their support getting ready and cleaning up. An hour after midnight, you'd never know the event happened! Thanks to the businesses for their cooperation, and all of you who participated making this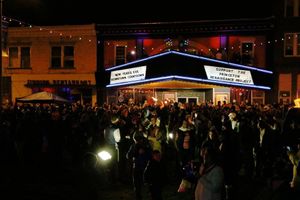 an absolutely epic way to bring in the new year.  We learn so much in the midst of these events, and we are already scheming for ways to improve for next year. All new activities, entertainment, logistical improvements and features are on their way. We welcome feedback. If you attended the event or just want to give input, please take our survey here.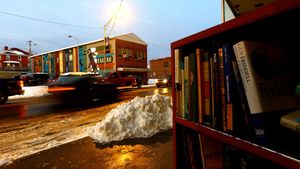 There is a full schedule of events coming up starting this week and continuing throughout the year. Thursday at 5pm is our next Renaissance Rap Session. These open talks are your way to get involved, give your ideas, and talk though the development. Held at the cozy and delicious Local Mo'Joe Cafe, it's also a great way to support one of our growing independent businesses. The next night is Poetry Night at the cafe. Our area is home to some remarkable writers. They gather and read in a comfortable and casual environment, and it is truly inspiring. New River Community & Technical College has been collaborating on the event; several professors have been involved, and now, students from local poetry clubs are mixing into the fold. I love that it's located in what I like to call our literature corner- next to the wonderful independent bookstore and across the street from our beautiful public library and book mural. A few doors down from NRCTC and Golden Rule Montessori School, there is a distinct feeling of cultural activity at this spot in town. Come relax and revel in it! Local Mo'Joe has also started open stage sessions every Saturday from 2-4pm. Anyone is welcome to bring an instrument and join the jam.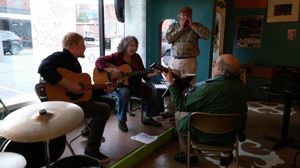 A few doors down at The RiffRaff Arts Collective on Saturday evening is the 4th edition of "Community Art Talks- Bridging the Gap Between Art and YOU!" The talk series is designed by the extraordinary local artist Chase Bowman in order to convey the notion that art is accessible to everyone- not just the art scholars and the elite, but anyone who is curious. He and other artists in town are concerned with breaking down the barriers that block people from participating in arts activities. The talks are free of charge and feature complimentary coffee and cookies. This month's featured artist is painter Stefani Slaughter-Burchfield; she has painted 2 murals downtown and is the designer and maker of the shining ball that is dropped at The Downtown Countdown. This edition of the talk will take place in Stages Music School, as heating the grand Room Upstairs, a remodeled turn of the century ballroom turned small theater, is cost prohibitive in winter months. Regular programming in the room, such as open mic nights, concerts and plays, will continue in March. If anyone is interested in sponsorship to enable year-round programming in The Room Upstairs, this would be a great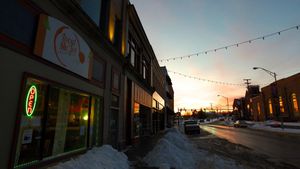 opportunity to contribute something of tremendous value to our community.  
Also that evening in the arts district, Diamonds and Gold Look will hold the first edition of "The Corky Brush," a 2 hour painting class with the talented Promise Sloane. It's billed as "Art to Transform the Mind" and that sounds absolutely fantastic! How exciting that these kind of things are taking place in our neighborhood.  
There are several events the following weeks in celebration of Saint Valentine's Day. First, on Friday, February 5th, the 2nd annual Newlywed Game show will take place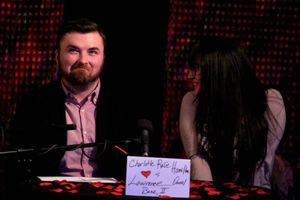 at The Turnaround. Last year was an absolute raucous. Greg will reprise his best Bob Eubanks impression in his glowing neon green suit, and we will surely laugh outrageously as 4 newlywed couples vie for prizes and bragging rights. Sweet treats will be available and your $10 ticket will help raise the roof on the theater!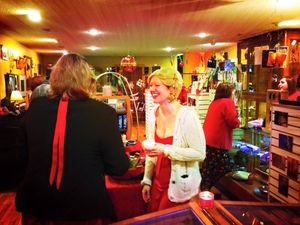 The following week, on Friday, February 12th, a handful of downtown businesses will be open late for "La Rouge- A Red Dress Event in downtown Princeton." Guests are encouraged to don red attire and explore the galleries of The RiffRaff Arts Collective, Gary Bowling's House of Art and Diamonds & Gold Look. There will be live music and refreshments, and guests will have the opportunity to mix and mingle with the artists. Enjoy their new work and get to know them. What could be a better gift for your sweetheart than a hand made, locally crafted work of art? Diamonds & Gold Look will give away boxes of chocolate with purchases of $50 or more, and every purchase will enter you into a drawing to win free tickets to the Valentine's edition of The Corky Brush paint classes, the very next day.  
This spring, we will hold our annual auction with artwork created on pressed tin ceilings tiles from the theater, so stay tuned for that information.  
Shouts out to all the wonderful downtown businesses that are making it happen every day on Mercer Street.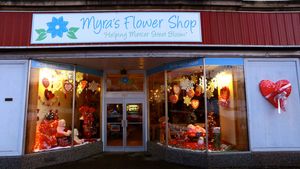 The sweat equity and entreprurial spirit of business owners like Myra's Flower Shop, Tony's Barber Shop & Kimberly's Salon, Danny's, Granny's Sewing Room, The Music  Exchange, Total Health & Healing Concepts, Hillbilly Cycles, Oasis Market, Muffler Man, Service Cleaners, Sly Fox Shoppe and many more should be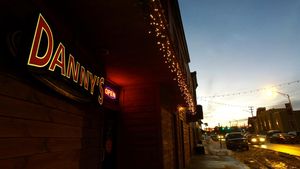 appreciated, supported and celebrated.  

The Renaissance in downtown Princeton is alive and well, even under a foot of snow. Thank you for being a part of it! 

                                       by Lori McKinney

Winter Events in Downtown Princeton  
Thursday, 1/28         Renaissance Rap Session @ Local Mo'Joe - 5pm 
Friday, 1/29               Poetry Night @ Local Mo'Joe - 5pm 
Saturday, 1/30          Open Stage @ Local Mo'Joe - 2pm  
                                 Community Art Talks @ The RiffRaff - 5:30pm 

                                 Corky Brush @ Diamonds & Gold Look - 7pm
Friday, 2/5                 The Newlywed Game Show @ The Turnaround- 7pm 
Friday, 2/12               La Rouge- a Red Dress Event @ The RiffRaff, Gary Bowling's House of Art and Diamonds & Gold Look - 7pm  
                                  plus Date Night at Dayfly Books - 5-6pm 
Saturday, 2/13           The Corky Brush Valentine's Edition - 7pm