Late Springtime in Downtown Princeton  
This Springtime has been active in downtown Princeton! A lot has been happening behind the scenes and, as we enter summer, the changes become more visible.  
The Renaissance Theater project is underway! The marquee is getting a makeover and the construction has begun; check out the vision plan to the left.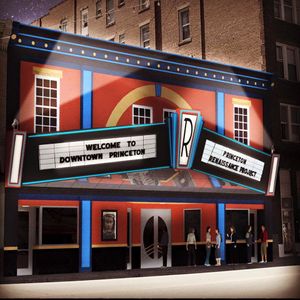 In an effort to stabilize the existing 1950's Lavon facade, and pay homage to the icon keystone of the 1911 design for the Royal theater, both concepts were merged into our new design. As you can see by the Art Deco design on the face, this keystone is clearly accented in the new structure. Notice the original keystone on the arch behind? This rendering is a blend of history that keeps with the tradition and feel of both generational structures. In the past few months, the roof has been completed and the skylight windows will be replaced soon. This week there are some internal modifications being done for structural reinforcement. From there, we will prepare for building walls, running electricity, etc. The theater design team, led by Rita Montrosse and Christopher Clark, has been busy working with ETB Architects and has poured a ton of love into this project. Dedicated volunteers, led by Greg Puckett and Jennifer Farmer, have worked diligently to get to this point. So many thanks to all who have contributed and continue to contribute to this process. 
To help move it along, we are back into fundraising mode. Please pitch in what you can; every dollar helps!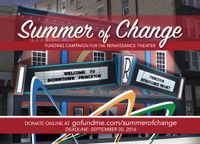 The faster the funds raise, the faster we finish. Find the online campaign and pledge your support here:  gofundme.com/summerofchange. Let's be the change... together! 
Yesterday was a fantastic day for Princeton! The Railroad Museum hosted and sponsored a wonderful WV Day celebration. Guide and historian Pat Smith toured a packed trolley all day to see the sites around town. Hundreds of people visited the railroad museum and enjoyed storytellers, live music, horse and buggy rides and history lessons. Hats off to Pat and the staff of Princeton Railroad Museum for the rousing success of what has become a great tradition for our town!  
Later that evening, Mercer Street was alive with the monthly edition of Cool Cruising Nights. The weather was perfect and tons of awesome classic cars cruised the strip. Teresa Catron, Richard Smith, Keith Williams and the others that work on this event are heroes of the renaissance. I'm always so inspired to see everyone gathered downtown reveling in the nostalgia of the good ol' days. These are the new good ol' days, folks! 4 Seasons Bluegrass played music in the square, folks gathered with their lawn chairs and friends met up in the evening sun. Some of the businesses kept their doors open late and the whole downtown was just alive with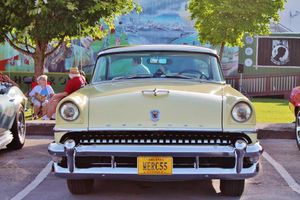 activity. Cool Cruisin' Nights happen the third Saturday of every month. And of course, the Big Kahuna, The Cruiser's Reunion, will take place Saturday, July 16th, so mark your calendars and plan to spend that evening on the town.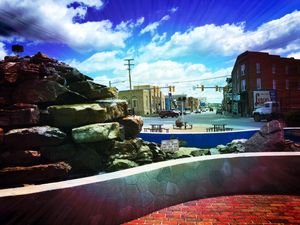 When the sun is shining, the downtown looks beautiful; sparkling and golden with potential. When the sun goes down and the sky turns a hundred shades of colors, the buildings glow in the light, and I'm telling you; it is just beautiful. So many people still do not see the beauty and potential of Mercer Street. It really is all about perspective and having the eyes to see it. Not everyone is a visionary, and that is ok. But, within the next year or so, it's going to be hard to miss the transformation.  

We Celebrated Princeton this past Saturday with our annual street fair; hundreds of folks came out to enjoy live music performances on our beautiful Dick Copeland Town Square Stage, the Mutts Gone Nuts Comedy Dog Circus, tons of vendors and of course, our Mercer Street businesses. There was even a zip line on Mercer Street! I believe that's a first. It was a beautiful sunny day; people laughed and danced; friends caught up and  enjoyed the colorful atmosphere of downtown Princeton. Businesses showed off their new offerings; Mama Kay's served delicious food outdoors in the food court along with several others; delicious smells of BBQ and kettle corn filled the air. People remember a time when every Saturday was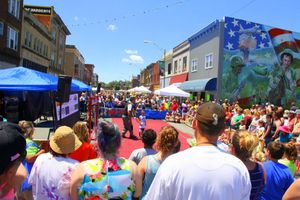 alive on Mercer Street, and I believe we will see that again in the coming years. We are at a tipping point, hovering on the precipice.  
I've come to realize that in a transitional town, businesses will come and go; it's the turn of the wheel and it is likely going to happen until we hit that critical juncture where the economy blossoms again. We were all very sad to see Local Mo'Joe go, but happy that they took the chance to experiment with a business that, in retrospect, may've been ahead of its time. In the good news arena, LMJ has acquired a food truck! They've secured seed funding and plan to launch a mobile operation soon. Stay tuned for details! We hope to see another food venture plant roots soon. If anyone out there is reading this that has the resources to make a restaurant happen, but have hesitated to do so, please try to "Ask not what your town can do for you, Ask what you can do for your town!" A food venture might not seem like the smartest financial investment you could make, but like my dad says, an investment in our community is a "different kind of ROI." Your investment will help turn this town around! You could be a hero in helping our town become what we all envision and in the long run, that will pay big dividends. Some people say "I won't invest my money until the city fixes everything, or when "they" fix this or "they" fix that." But, it's not just up to the city. It's up to all of us! We are "they!" We are they that can make a difference. Every time a business opens its doors down here and becomes a link in the chain of the positive energy downtown, it brings the light. The light of positive energy dims the negative, and slowly, we are shifting the atmosphere. If you or anyone you know might be interested in starting a businesses and accelerating the renaissance, give us a call! We can tell you what buildings are available, who to call, etc. We're happy to assist in any entrepreneurial pursuits downtown.  
It's a really interesting moment in time on Mercer Street. You've got this very poignant intersection of the new energy- the cultural activity, the passionate volunteers planting flowers and painting buildings, taking music lessons and keeping shop- and the old energy- the negative element that ebbs and flows in its presence. It comes in waves, and it is always met with these smiling, friendly faces. We always greet the people on the street, and for the most part, our work is respected. I'm telling you, even people you would expect to be trouble makers are inspired by what's happening. They take time to stop and tell us what a good job we are doing, and many of them have expressed to us that the work is genuinely making life in the neighborhood better for everyone. One told me the other day in the garden, "Boy, you all sure are doing this town proud." Moments like that send waves of goodness though my soul; the change is real, folks. I have been incredibly thankful that the murals have stayed in tact, the garden is mostly trash-free, and our space is generally respected. It's a numbers game at this point. The more of us positive people that are present in our downtown, the more we outweigh the negative. I urge each and every one of you to get involved! Get down here and help us tip the scale!  

One group of people that is always visible and present downtown is the creative arts community. Once again, in May, we took to the streets for the 8th annual All Together Arts Week Grand Finale Parade and Day of Merriment. The parade is an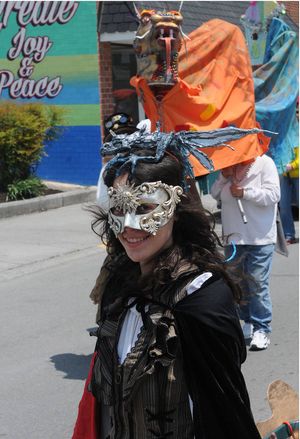 expression of the abundant energy that exists in the arts in Mercer County. The sounds of drums filled the air, elephants, dragons and butterflies walked down the street and bright colors adorned the sidewalks and filled the town square. It was a cold day for the parade this year and it had to be re-scheduled due to rain, so attendance was down from years past. But, the tradition was honored and it will continue for years to come! 
Explore! Adventures in Science is open and going strong! Their presence is the next link in the chain of positive efforts. It is so fun to watch their posts about experiments, detective nights, birthday parties and more. This week they are hosting a program where you can build your own tiny robot. This type of innovative thinking and problem solving can stimulate major progress; we all need to think creatively about solutions to our challenges. Hats off to Mike and Holly Flannigan for staying true to their vision and making it happen! Science is alive on Mercer Street. The Golden Rule Montessori School is growing and growing and has expanded to occupy more of their building. In the front of their building, a new salon has planted roots- The Lady Project Boutique. Pixel Nation Retro Video Game Store is about to re-emerge! Stay tuned for details. 
Mama Kay's "This Is It" Restaurant is holding ground in the historic district, serving delicious home cooking and hosting parties and events like line dancing and music shows. The new railroad mural and railroad museum continue to attract more visitors; photo shoots, tours and even weddings are taking place there. Businesses like The Bronze Look continue to offer a unique shopping experience on the lower end of Mercer Street.  
Stages Music School is as active as ever; the students of The One Voice Project continue to perform around the state and beyond frequently, and they continue to record and create music and videos in abundance. Creativity flows from that place! I love being in the back alley; the sounds of piano echo through the street. It's like the building is alive, breathing music. Next door, The RiffRaff Arts Collective continues to host events like open mic nights and concerts, and our gallery co-op is flowing with hand crafted items and creative energy. With new neighbors Gary Bowling's House of Art, the arts district looks towards dynamic expansion in the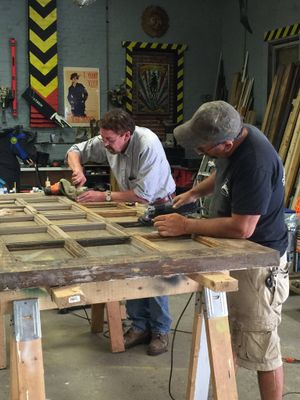 coming years. Gary and his squadron of creators are working wonders in the old bank building! It is beyond amazing how fast they have worked to transform that space from a junked up garage to a colorful, Disney-esque warehouse of art. Amazing. Together, we have applied for grant funding and hope to expand our offerings to the community significantly this year. We want to provide regular concerts, workshops, classes and events for everyone in the area, regardless of their ability to pay. We have all been working for years and years                                          
to build the foundation, and it feels like time for it all to click. Stay tuned, everyone. There is bright light on the horizon. ;)  
Across the street, Ed Ball and The Music Exchange hold ground; keeping their decades old tradition of music making, lesson teaching and equipment repair alive. Just a few doors down, Freddy Modad schools his students in the ways of rock; and his guitar skills are put to work every weekend in the new and improved Sam's Bar just down the road. That's a lot of creativity concentrated in a few block radius.  
Modern Male is still selling the most dapper ensembles, Granny's Sewing Room and Allure Salon continue to serve their faithful clientele and Total Health & Healing are keeping up their good work of healing education. Valley College has expanded their offerings and occupies new space; they've become a strong anchor of positive activity downtown. Enrollment at New River Community & Technical College has swelled, and they look forward to another great semester.  Another convenience store is opening soon, near Muffler Man. Keep your eyes peeled for a new business, set to sprout next month.  
Princeton Public Library continues to present excellent, diverse programming from Lego nights and Minecraft gatherings to adult coloring cafes. I am so thankful to have this high quality library in our town. Thank you to Brittany and the awesome staff for providing such an excellent anchor for our arts and culture district. 
Oasis Market continues to do good business and New Kids on The Block is alive and well. There are so many more active businesses on Mercer Street! Please visit our directory of downtown businesses here: princetonrenaissanceproject.org/businesses and show support as much as you can. Shop Local!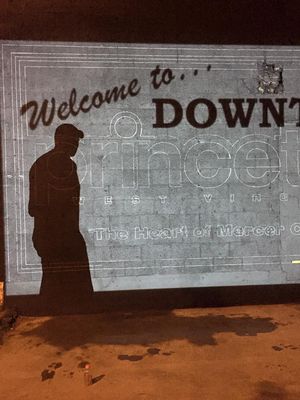 A few eye sores on Mercer Street are currently being transformed; the wall of Service Cleaners that you see right when you enter downtown is being colorfully painted with a "Welcome to Princeton" sign thanks to dedicated volunteers. A few other projects are in the works to creatively transform ugly spots; one is a solid coat of paint on a dilapidated building and another involves vintage photographs on a giant vinyl banner which will hang on one of the most troublesome ugly spots in town. If you have any high resolution photographs of downtown in bygone eras that you would like to see be a part of this public work of art, please email them to lori@princetonrenaissanceproject.org or bring a jump drive by the gallery of The RiffRaff Arts Collective @ 869 Mercer Street. 
The community garden got some TLC this past weekend; it is looking beautiful, and soon, our water spigot will be installed. That has been a big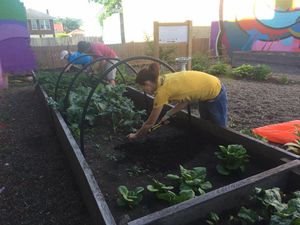 holdup all this time; volunteers have had to cart water a whole block on a wagon, and they kind of had to suspend planting; after all, you can't garden without water. Now that the spigot is on its way, the garden will grow in strides. If you'd like to get involved, shout out! We'd love to have you.  
Music in the Square is back! Thanks so much to Tammie Toler of Princeton Times and Ed Ball of Music Exchange for making that happen all these years. Any given Wednesday at noon, you can enjoy a lovely concert in the park and enjoy lunch provided by a community food vendor. Thanks to all the talent that takes time to brighten up the neighborhood with their performances. I came out last Wednesday, ran into several buddies and ended up chatting about downtown development over lunch; what a great way to spend my lunch hour! It occurred to me that it would be a great time for Renaissance Rap Sessions- outdoors in the park. We could meet at Music in the Square and continue our conversation afterwards. It's been a particularly busy season and I haven't had a chance to convene a session, but let's say Wednesday, June 13th is the next Renaissance Rap Session in Dick Copeland Town Square. Meet at noon for the music, and plan to stay afterwards to chat. 

Thanks so much to all of you for your continued support, and for staying tuned to the renaissance! Join us downtown this season! Let's Be The Change, Together!
by Lori McKinney 
Creator and Community Organizer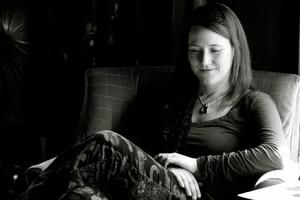 SUMMER EVENTS
every Wednesday at noon- Music in the Square!
June 23- LEGO Builder's Club: Theme is "Summer Fun!" @ Princeton Public Library - 920 Mercer Street 
June 23- "Bitty Bots"- Design your own Teeny Tiny Robot @ Explore! Adventures in Science- 809 Mercer Street
July 11, 18 & 25- Open Stage Night at The Riffraff Arts Collective - 865 Mercer Street 
July 13- Renaissance Rap Session in Princeton Town Square - 1pm
July 16th- Cruiser's Reunion - downtown 
August 1, 8, 15, 22- Open Stage Night at The RiffRaff Arts Collective- 865 Mercer Street 
August 3- Dixon's Violin in The Room Upstairs @ The RiffRaff - 865 Mercer Street
August 13- Wipe Out Bullying Back to Summer Bash! (Teen Festival) - downtown 
August 20- Cool Cruising Nights - downtown 


PHOTO CREDITS: 
Thanks to the photographers featured here! The car photo of cruising night is by Teresa Catron, the fountain photo is by Robert Blankenship, the shot of the dog circus at Celebrate Princeton is by Jeanna Brown from Princeton Times, the one of the masked girl on All Together Arts parade is by Eric Dinova from Bluefield Daily Telegraph. the one of Gary Bowling and Jody Queen working in The House of Art is by Donna Whitehead, and the rest are contributed by Greg Puckett.