As we prepare to countdown to 2017, we reflect upon another prosperous year of forward movement, excitement, community spirit and powerful possibility. There is far too much to explore in this short blog, but what follows is a glimpse back at some of the highlights of a year's worth of progress in downtown Princeton.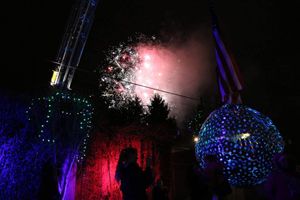 We started 2016 with a bang, of course, with our annual tradition of The Downtown Countdown. 1,000 + community members gathered to mark the beginning of another chapter in our history.  
Plenty of creative activity started the year right in our creative district. From Mama Kay's This Is It Restaurant hosting music nights to The RiffRaff gallery's annual art show La Rouge to Diamonds & Gold Look's Corky Brush paint nights to Princeton Public Library's adult coloring cafe, the creativity was stirring even under feet of snow. We hosted another round of The Newlywed Game; Puckett wore a leisure suit and had us all in stitches with his Bob Eubanks impression and 4 newlywed couples blushed and roared with laugher before a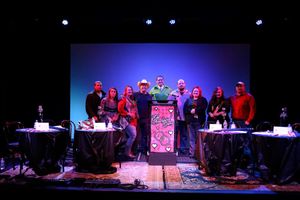 live audience. What a fun tradition to carry forward!  
With the dawn of spring, volunteers prepared the garden for another season and the creators of the RiffRaff Arts Collective headed off on their first ever Create Your State Tour around WV to empower other communities to use the arts to grow. Gary Bowling's House of Art celebrated their opening, and Local Mo'Joe hosted poetry nights in conjunction with New River Community & Technical College. As spring sprung, downtown Princeton and the entire arts community of Mercer County came alive for All Together Arts Week, and as always, the colorful parade painted the town and left a dusting of glitter that stuck for weeks after.  
Later in the spring, The RiffRaff AC hosted a beautiful show by WV artists Yaima and a paint night to benefit a yoga studio that hopes to open on Mercer Street soon. Community members in recovery volunteered hours of their time helping gut the theater. Princeton Public Library constructed an adorable "Little Free Library," gifting free books to our community just in time for the 2016 Celebrate Princeton street fair which debuted a new "Fountain Stage" and a zip line.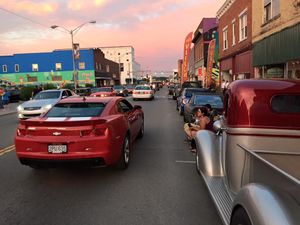 Cool Cruisin' Nights began and brought hundreds of people downtown each month to enjoy a long standing Princeton tradition of cruising the strip. The railroad museum celebrated WV's 153rd Anniversary with a very special event that included storytellers on the trolley and more. 
On the heels of the devastating floods that hit our neighboring towns, the One Voice Project at Stages Music School hosted a special relief concert. All around our community and state folks came together in their own ways to help and pray for the victims.   
With summer in full swing, artists from NYC traveling the globe made a special stop in Dick Copeland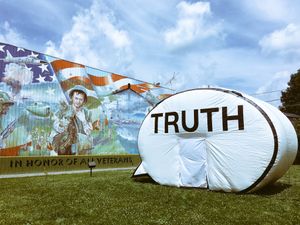 Town Square with their "Truth Booth." Community members wandered by and were encouraged to tell their own version of the truth.  
The Summer of Change encouraged investment and action, and cleanups became more frequent. Greg & Jennifer felt the itch to create and beautify once again. A wall that was once an eye sore became a welcome sign for downtown! 
The RiffRaff was busy hosting a visionary violinist and painting an extension of Artists' Alley behind their building along with a slew of artists from around the community and students at Stages. Meanwhile, the Princeton Police Department and Clover Leaf Properties announced a partnership for a new substation to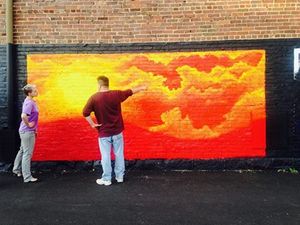 be added onto the block for public safety.
Zachary Marquis, a talented creative volunteer, released his inspiring video "Princeton Pride," and the MCCVB released several awesome new videos featuring downtown and all kinds of wonderful things happening in Mercer County.  
Granny's Sewing Room, one of downtown Princeton's longest running businesses, celebrated 30 years! Myra's Flower Shop continues to serve their loyal clientele, truly helping Mercer Street bloom. 
The "magazine of the south" Porter Briggs released a major article called "Princeton's Timely Creative Renaissance" detailing the path of industry and the birth of our creative movement in Princeton, signaling that there are people paying attention. It's evident that the energy that we are putting out is creating waves in the region. 
Jenn and Greg couldn't sit still and ended up taking care of something that had been on their list for a while, painting the Board of Education building that needed some TLC. That "JUST DO IT" spirit is what is turning the tide in Princeton. Later in the year they sprouted yet another mural, a tribute to the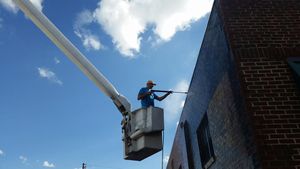 Keep Mercer Clean Campaign, and a symbol of their deep drive to do just that.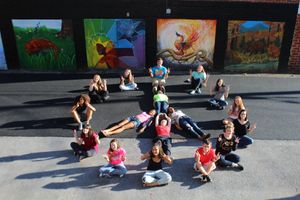 Stages Music School celebrated world peace day with a beautiful tribute in the alley, and Autumnfest saw a huge crowd and a great weather day. 
Local Mo'Joe, while loved by so many, made a necessary transition to a more sustainable model, and now its loyal fans await Mo Jo A Go GO, Princeton's coolest, yummiest organic food truck.  
Let Your Art Shine, a paint your own pottery shop, announced its new location right in the heart of the arts district. A long time dream of a sweet family, they wanted their business right in the heart of it all.  
A new convenience store opened in the neighborhood; they have my favorite drink that I can't find anywhere else! Mr. Patel has hired a local artist and will be having a mural painted this spring to join in the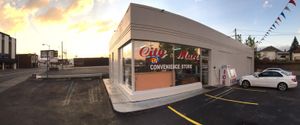 renaissance.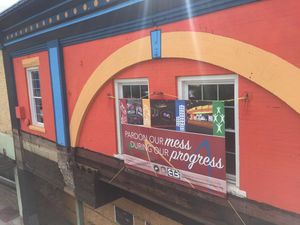 The Renaissance Theater restoration and rebuild is well underway! Over 30K has been invested in removal of existing walls and structure, over 40K in a new roof and skylights, and over 10K in steel and electrical components to prepare for what's to come. It's coming, folks. It really is!  
Valley College hosted a community resource fair, inviting anyone from our community to participate. They have taken over those buildings and truly made an impact on that section of the neighborhood. 
Princeton Public Library made a huge announcement, introducing their brand new IDEA Lab! This special spot in the basement is all about building, making, tinkering and innovating. This is extremely exciting news for our neighborhood. Explore! Science Center opened its doors and starting to host after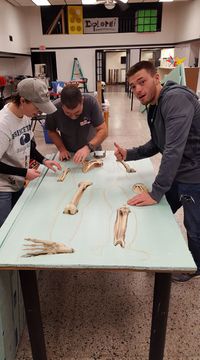 school science projects and activities like crime scene investigations and Liquid Nitrogen Ice Cream making! And, Golden Rule Montessori School is pushing the envelope with out-of-the-box thinking, extra curricular scientific exploration and community learning. All of these entities form a potent stew of forward thinking educational opportunities. These places are cornerstones of the Arts & Culture District!  
Hatter's Bookstore took the torch from Dayfly Books and Collectibles carrying on a tradition that is so special to our town, the indie bookstore.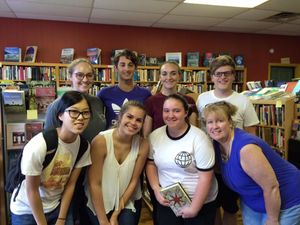 Literature corner lives! 

As Autumn set in, The Creepy Cruise In brought all kinds of spooky subjects out of the woodwork. Mercer Monster Mash saw thousands of trick-or-treaters and hundreds of costume contest participants! Doc Atwell and Star 95 stepped in to make the contest happen this year and it was a hug development. The costumes were absolutely amazing, and this tradition looks to be one that will last for years to come.  
Renaissance Rap Sessions continue as a way for anyone to have their voice heard about downtown development. Anyone is welcome to ask questions, share ideas and guide the direction of our movement. All that is required is a positive attitude! 
In early November, PRP made a very exciting announcement. Thanks to FHLBank of Pittsburgh and the Blueprint Communities program, for the first time ever we will be offering new business grants of $3,000 to 4 businesses to locate on Mercer Street. The application is now open, and we hope it will  inspire entrepreneurs to consider downtown Princeton. We hope this is the first of an annual grant program and sparks a new era of creative entrepreneurship in our town.  
And speaking of entrepreneurship, we finish and start the year with 2 exciting grand openings on the night of the Downtown Countdown. Let Your Art Shine and Explore! Science Center will be alive with activity as we ring in the new year at the 4th Annual Downtown Countdown, our epic and over-the-top community celebration. They say that what you're doing when the clock strikes midnight is what you'll do all year long. Here's to a year of creativity, positive perspective, taking chances, living fully and spreading joy.  





Happy New Year! 
 
P.S.  As the year drew to a close, mother nature treated us to a gigantic laugh with a hilarious shadow from our Christmas decorations casting a hipster beard on one of our favorite murals.

Enjoy!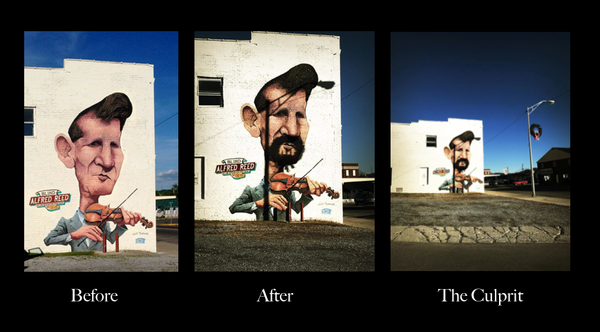 photos by Robert Blankenship, mural by Jeff Pierson 


By Lori McKinney