It is a mighty exciting time in downtown Princeton, ladies and gentlemen. After years of growth and toiling, we are approaching a monumental turning point.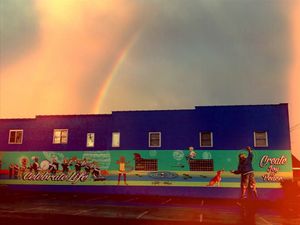 Businesses are preparing for launch, buildings are being gutted and completely renovated, the city is on board and investing in a variety of ways, new volunteers are stepping up to shepherd projects, creativity is abundant and a few key changes are ready to click into place. I'm telling you, within this year, 2017, we are going to be looking at a radically different Mercer Street.  
I'll do my best to paint the full picture of the progress.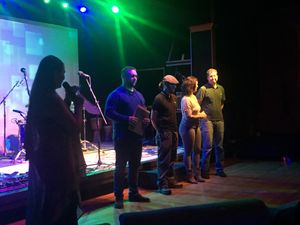 Back in February, PRP awarded 4 entrepreneurs grants to open their businesses on Mercer Street. Thanks to Federal Home Loan Bank of Pittsburgh for the funding as well as A Vision Shared of Charleston for sponsoring the grand finale pitch contest, we were able to award and celebrate the growing culture of entrepreneurship in Princeton. The top winner, Tim Toler, won $3,500 for Appalachia Coffee Co. which will launch in July at 860 Mercer Street. He was also awarded a $1,000 advertising package from media sponsor Fox-59 as well as $500 in advertising from Bluefield Daily Telegraph.  
Devon Taylor, a talented culinary entrepreneur who is passionate about classic diners, won $3,000 and $1,000 in advertising from KissFM as well as $500 from Princeton Times to open his business Oi Boy in the iconic Jimmie's Restaurant. Both Devon and the developers, Adam Sarver & Main Street Builders, are committed to honoring and maintaining the integrity and style of the original Jimmie's. The signage will stay in tact and the decor and equipment will all reflect and pay homage to the diner we all remember. Devon told us all during his pitch that, when he was a little boy, instead of collecting He-Men figurines, he collected and decorated his room with classic diner signage. We originally met him when he vended at our annual festival Culturefest, and everyone loved him so much that we invited him to The Downtown Countdown. When he rolled into Princeton, he immediately laid eyes on and fixated upon Jimmies; it was love at first sight. A few weeks later, it was clear that he & Adam had clicked, and it was ON. The construction on the building started right away, and since then, we have been used to seeing giant equipment moving dirt, laying gravel and gutting that building and the one adjoining.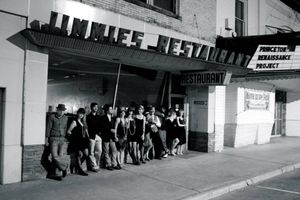 The new restaurant is going to be a new icon for Mercer Street. And trust me, the burgers are going to blow your mind! You can get a sneak preview of what's to come at Celebrate Princeton June 10th. Devon's food truck, Oi Poloii, will be parked right in front of Jimmies's serving to a hungry crowd.  
As Adam and his crew were beginning the renovations on Jimmie's, they also focused their energy on the other side of the building next to the community garden. They stripped it down to bare brick, which is beautiful, and they all agreed that the space looked prefect for a brewery. There are some strong possibilities that are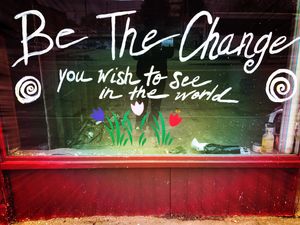 hovering in the realm of potential. And, with The City of Princeton poised to pass an ordinance relaxing restrictions on breweries and pubs, it is increasingly likely that we are going to be seeing another exciting development this year. Stay tuned! 
The third grant award winner was Ron Sokol, who will be opening Mountain Works, a co-working, crafting and event space in the back of 860 Mercer Street. The coffee shop and his event space will share a common lounge area where people can relax, enjoy their food & drink and get work done. And finally, Joanie Bailey won a grant to open her yoga and healing arts studio, The Gaia Den. Her dream, this center will be relaxing and welcoming, a scared space where people of all ages and backgrounds can gather to explore yoga and healing located at 222 Mercer Street near the Railroad Museum. 
In the meantime, as the buzz about new business built, a few other possibilities blossomed. At 957 Mercer Street, where Lynch's clothing and Modern Male once were, a candy manufacturer is planting roots! This business will have a retail space in the front and a factory in the back from where they will distribute their products to their established national market. The city is renovating the back alley so that their 18 wheeler can pull up to load the goods. Exciting! Watch for this project to come to fruition this summer. 
A few doors down, Chase Bowman, an accomplished artist and scholar of the arts, is working to acquire the building which once housed Gary Bowling's House of Art (Gary was gifted a building and returned to Bluefield) to open an Appalachian Contemporary Art Gallery and Resource Library. He has an excellent business plan which includes an artist residency, studio space, classes, workshops and more. Let's all wish him the very best; he is a deserving and talented young man and his project would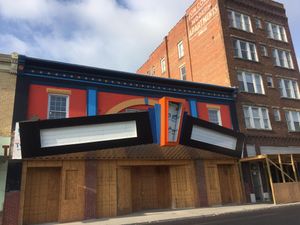 serve our community greatly.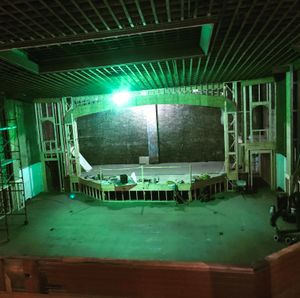 If you follow our facebook page, you are likely familiar with the striking progress of The Renaissance Theater. Fredeking & his crew have done amazing work framing the space; it truly is awe-inspiring! If you'd like to get a sneak peak, come to Celebrate Princeton June 10th and Greg will give you a special tour. Dave Sexton has been busy building the marquee; it is looking oh-so-nice and bright.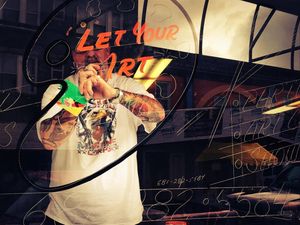 Businesses like Myra's Flower Shop, The Wearhouse, Let Your Art Shine, Tony's Barber Shop, Allure Salon, The Lady Project, Diamonds & Gold Look, Danny's, Mama Kay's, Kidz at Heart Daycare, Modad's Music, Granny's Sewing Room, Sam's and so many more are trucking along, providing their creative businesses to our downtown environment. If you want to see downtown flourish, Please Support These Local Businesses! There is a plethora of unique shopping, one of a kind gifts and great services that these shops offer. Please shop local & help this garden grow!
The owner of The Hatter's Bookshop is, unfortunately, facing family illness, and they are looking to sell their shop. The business is actually doing quite well, and we all hope that someone will step up and take the torch for this sweet little fixture, a literary oasis in our downtown. Visit their faceboook page for more info.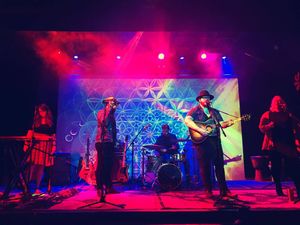 The RiffRaff Arts Collective continues to offer Open Stage Night every Monday evening where poets, musicians, artists and other creatives gather in a relaxed & inspired all ages environment. We've hosted several concerts this season and special events such as All Together Arts Week and a neighborhood block party called La Rouge- A Red Dress Event in Downtown Princeton. Our Art Boutique at 869 Mercer is growing with new artists, new displays and products all the time. Next door, Stages Music School continues to rock, now serving about 200 students and their families. The One Voice Project anti-bullying tour brought their message of kindness and love to hundreds of students on their spring break tour. We (The RiffRaff) provide production for the unique program,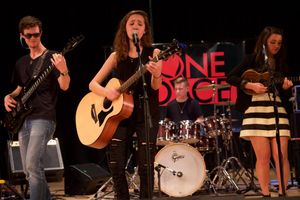 and I can't say enough about the impact and inspiration these young artists bring. It is absolutely awe-inspiring! 
Princeton Public Library continues to offer great programming; their IDEA Lab offers a unique opportunity for innovation and exploration. Explore! Science Center continues to provide programming for students of all ages to discover science. We are so lucky to have these fine organizations in our downtown community! Princeton Railroad Museum hosts dozens of visitors every month and is preparing for their annual event, West Virginia Day, which has been a hit in years past featuring storytellers, music and a special trolley ride. In addition, Valley College and New River Community & Technical College continue to serve students with quality opportunities in higher education. First United Methodist Church continues to support the downtown with their love, prayers and volunteerism, and many other faith communities continue to dedicate their time servicing disadvantaged populations with their gifts of ministry on Sundays. We are so thankful for all these wonderful people who make up our vibrant and loving community.  
Speaking of vibrant and loving, the community garden has gotten an infusion of some love and energy; Becky Kidwell has stepped up to shepherd the project, Jodi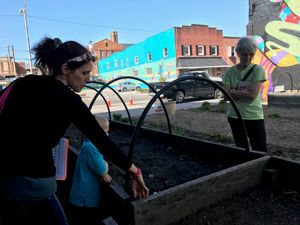 Richmond of WVU Extension Service is offering assistance, and all are welcome to get involved and join them! Becky will man a booth at the Celebrate Princeton Street Fair on Saturday, June 10th, so if you are interested in getting involved, come to the garden and meet & greet with Becky!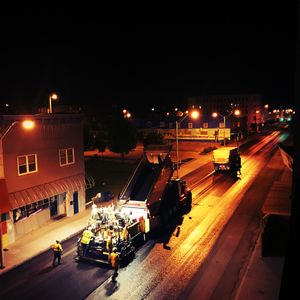 If you live nearby, you likely noticed that WV State Department of Highways is over halfway finished with the long-awaited paving of Mercer and Thorn Streets. The fresh coat of asphalt is just what the doctor ordered for this new chapter of time downtown. It has really felt good seeing all those workers focus all that attention on our Mercer Street thoroughfare, as if they are #pavingtheway for our blossoming.  
You may have also noticed the beautiful new flower baskets hanging around town! Marqueta Mathena stepped up to facilitate the beginnings of this project, a first for our city. Thanks to Tracy Cutlip and the awesome fellas in the City Works department, the baskets went up this past week and they are just lovely. We are so excited to see this project blossom over the years, and we are off to a beautiful start.  
Shortly after that, the city hung our colorful banners that RiffRaff artist Robert Blankenship designed years ago, and our neighborhood is starting to look awfully bright. Once the road paving is complete, our Christmas lights will return. We couldn't be more excited about that aesthetic shift!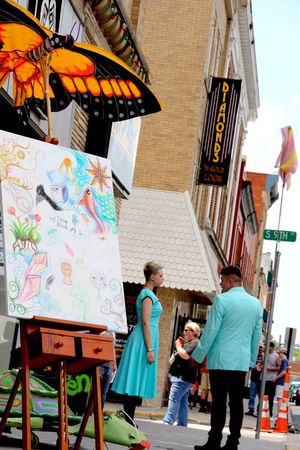 On May 20th, our vibrant creative arts community painted the town with our annual All Together Arts parade. The street was alive with color, and shots from the day give a glimpse into what the fully functional district can look like regularly in years to come.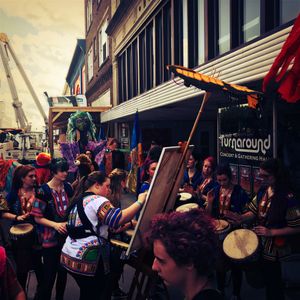 In April, City National Bank hosted their annual business after hours in conjunction with PMCCC, and the amazing Rita Montrosse facilitated the 3rd art auction with pressed tin ceiling tiles from the theater. Several talented and generous artists donated their time to create beautiful and unique works of art to help raise funds for the theater. Thanks so much to all who participated. 
May 20th marked the first Cool Cruisin' Night, and on the 3rd Saturday of every month, you'll find those classic cars revving up and folks lining the street. In July, the 5th annual Cruisers Reunion will bring participants from far & wide to celebrate this tradition. The folks who put on those events are dedicated and enthusiastic; we appreciate their efforts very much! 
On Saturday, June 10th, Mercer Street will burst with color, creativity and community. Celebrate Princeton Street Fair will take place from 10 a.m. - 5 p.m., and you really don't want to miss this. There will be special performances by Cirque de Vol aerial acrobatic showcase right in front of The Renaissance Theater. They will perform 4 sets of trapeze, aerial silks and hoop acrobatics, and it is sure to be captivating. There will be tons of great live music on 2 stages, demos, dozens of vendors, a quilt show, car show, live art mashup and so much more. Visit celebrateprinceton.com for details about the day, and join the Facebook event page to stay in touch with other guests.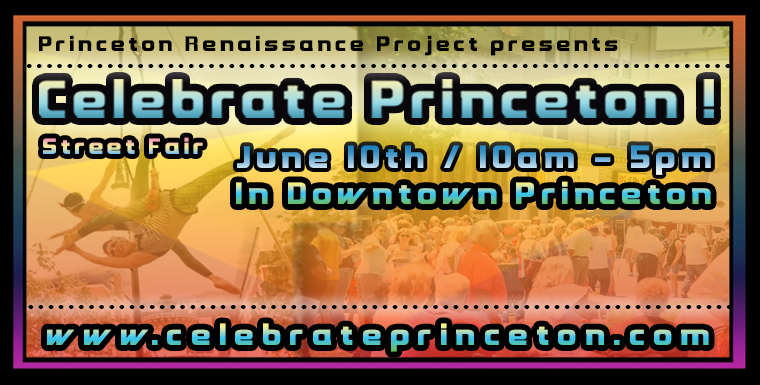 Thank you all so much for staying tuned to our progress! We've all been so patient and, trust me, we are on the cusp. With just a little more work and patience, we are about to witness the bountiful harvest of all of our hopes, dreams, wishes and work. Thank you so much to all who have contributed time, talent, funds and support. What a sweet reward we will all experience together. I am so excited to see you at Jimmie's restaurant, to share a milkshake, a burger and a smile, to sit next to you at the movies and flow in nostalgia with thoughts of "remember when..." I'm looking forward to waving at you as we pass on the sidewalk on a sunny day, to share with you the Mercer Street I and my wild creative friends have been enjoying for the past 10 years... to enjoy a sweet cup of coffee and a spring in my step as I hop from shop to shop on a Friday night... to revel in the joy of a healthy, vibrant community flourishing in a welcome victory after years of defeat... it's right around the corner, folks. You can feel it in the air. Stay tuned. I'll see you soon in downtown Princeton.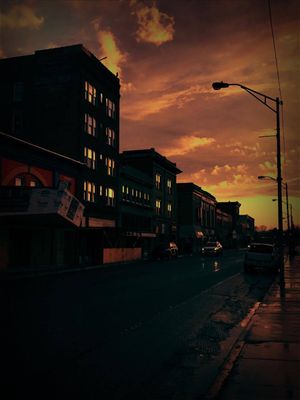 photo credits:
1, 3, 4, 7, 8, 9, 11, 12 & 15 by Robert Blankenship
13 by Jeanie Brown of Princeton Times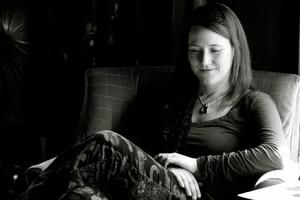 By Lori McKinney, Community Organizer