Happy New Year! We rang in 2018 in the frigid cold in Dick Copeland Town Square with about 500 brave souls after a night of revelry in warm & toasty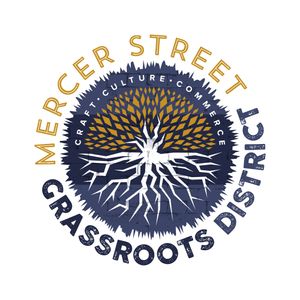 venues and in the streets. We watched in awe as Frost Lion Ice carved a masterpiece out of ice blocks, we hoola hooped in LED glow, we kicked back in The Room Upstairs & Stages Music School watching great bands, we marveled at the construction of The Renaissance Theater, and we made colorful memories together that we'll never forget.  
It was the culmination of an eventful year, one that saw major strides forward-new possibilities, new faces & players. It was the year that our neighborhood took on a new name: The Mercer Street Grassroots District. And now, here we are in 2018-a year full of bright promise, brimming with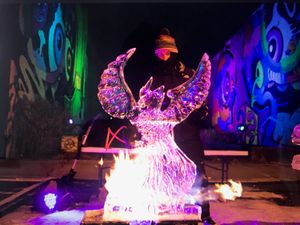 projects in the works. There's major construction and development occurring, businesses opening and brewing, nice residential units being created, long-standing goals being realized, and expansion, growth and creative action happening.  
I'll start where I left off in the last post, "Mercer Street Blossoming."  
Celebrate Princeton Street Fair was a smash; thousands of guests enjoyed live music and special performances by Cirque De Vol with their awe-inspiring aerial acrobatics, which added an exciting new dimension and flavor to the fair. Scores of vendors lined the streets and we danced, played and shared moments of connection. The event continues to grow each year and we look forward to celebrating again this year on Saturday, June 9th.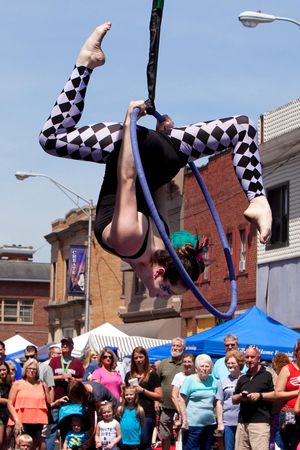 This past summer, Greg Puckett of Community Connections got to work creatively painting the ugliest spot in town and absolutely outdid himself! One man and a paintbrush can make a world of difference. He has transformed that spot that greeted visitors with a depressing, run-down hello to a place of bright color and vibrant signals of progress. Hats off to ya, Greg, and to your daughter Lauren & volunteers that assisted like The Day Report Center, Mercer County Teen Court, Mercer County Litter Control and more. Thanks to a grant from The Community Foundation of the Virginias and a match from Community Connections, they transformed that lot, which was a beast to tame. 
Last March, we awarded grants to 4 driven entrepreneurs. Here is an update on those businesses:  
The Gaia Den Yoga & Healing Arts Studio is within weeks of a grand opening. It has been a long road renovating her building at 222 Mercer Street in the Historic District near the Railroad Museum, but founder Joanie Bailey stuck to the path and is now ecstatic to be at this point. Stay tuned to her page for class schedules and updates, and plan to celebrate her grand opening with us!  
Appalachia Coffee & Food is not far behind; the construction phase at 860 Mercer Street is 95% complete, and the menu is looking deliciously enticing. 
The event space in the back of the building, which will be run as a separate business, will follow soon after that.  
The 4th grant recipient was Devon Taylor of Salem, VA, who you may remember from his food truck called Oi Poloii; he vended at The Downtown Countdown into 2017 and he is also a vendor at Culturefest World Music & Arts Festival in Pipestem. His food truck business really took off this past year, and his attention turned to that and away from Princeton. While it's a bummer in the short term, in the long-run we all know that it's important to find the exact right fit for that space; it's like a puzzle piece, and it must be the perfect one. That leaves an opportunity open! Jimmie's Restaurant is open to prospects; Main Street Builders and Clover Leaf Properties will build to suit and what an opportunity it is! See the floor plan and possibilities below. Click the photo for a larger version.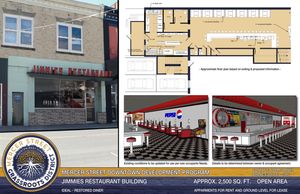 In addition, we now have a grant to re-award! Stay tuned for information about that opportunity.  
That grant competition stirred up interest in entrepreneurship in the neighborhood, and led to some other very exciting developments. When Main Street Builders and Clover Leaf Properties began gutting the Jimmie's building and the one next door, they stripped the one next door down to brick. Adam Sarver made the comment, "This would be perfect for a brewery!" Just days before, Miss Jeanie Brown had written an article for The Princeton Times about Matt Barnett and his brewing business "Sophisticated Hound." He had been brewing at his home and selling to local businesses like Pipestem Spa and The Railyard and at events around the region and was very popular. In the article he stated that he hoped to have a bricks and mortar location someday and he would like for it to be in Princeton. I picked up the phone to call him and tell him about the grant opportunity, and while it wasn't possible for him to make it into the contest, he said he was open to talking. When Adam found out about what Matt was doing, he said, "I know Matt! We went to school together!" Hometown connection! Ding! Ding! Ding! The two of them connected and now, less than a year later, Sophisticated Hound Brewing Company is set to open its doors in mid-February. Main Street Builders and Clover Leaf Properties have done a beautiful job with the space. We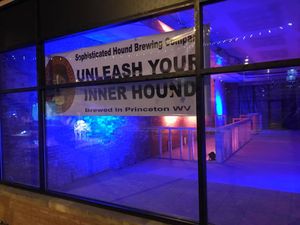 couldn't be more excited to welcome this business to the neighborhood. Watch for their opening sometime in February.  
The paint-your-own-pottery business Let Your Art Shine is doing very well. They have everything from mugs & plates to unicorns & dinosaurs! The ladies that run the place are all family, and they are super sweet, charming and smart. Lisa let her son Will-a farmer and accomplished developer-know about the opportunities nearby, and he purchased the building 2 doors down from LYAS that had been vacant and dilapidated for years, for his business Blue Ridge Bee Company. This is a major score for The Grassroots District!  
What is Blue Ridge Bee Company, you ask? When Will and his wife heard about the mass die-off of honeybees, they became interested in helping. They started their honey operation in 2014 and have expanded each year since. One of their main interests was finding ways to mitigate the Varroa destructor mite. One obscure apparatus  they discovered that could help was the Oxalic acid vaporization technology. They ended up engineering their own version of it to make it more affordable, and now it is the lowest costing, highest quality vaporizer out there. They sell this product worldwide, and have always wanted a headquarters. So, they are renovating this building at 858 Mercer for that purpose. In addition to the vaporizer and other beekeeping equipment, they plan to create an old-fashioned general store where they will sell farm-fresh products such as meat and eggs from their farm and of course, honey. They also intend to carry various nature-themed products like outdoor apparel, and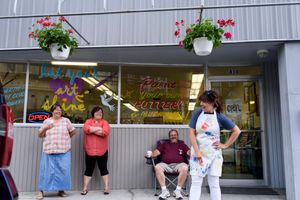 long-term plans include ice cream. Whoohoo! And that's not all. Will and his crew are also busy building two very nice modern apartments on the top floor. Projects like this are a dream, and what we've been waiting for.  
And that's not the only dream, folks. Will told his friend Lee Lewis and his wife Kristen about an opportunity-the old Von Court Apartment building. It had been struck by lightning, and various code issues had to be addressed before it could be inhabited. The previous owner was ready to move on, and it would take a special person to take that project on. Lee is a talented and award-winning electrical instructor at Mercer County Technical Education Center, and he and his wife Kristen have been developing properties together for years. Lee told his adopted grandpa, the brilliant Zane Shuck, an award-winning engineer who holds 19 patents for his innovative technologies, about the opportunity. All three together decided that this was an opportunity to make a significant impact in our community. With big ideas and great possibilities for the future, they purchased the building as "Innovation Technology Properties" and began renovating. Since the purchase date, they have re-wired the whole building, torn down the notoriously sketchy fire escape, started setting new steel beams, removed 20 tons of radiators and claw foot bathtubs, laid concrete and so much more; this is a gigantic undertaking. When complete, there will be 16 nicely renovated apartment units and a beautiful retail space downstairs. Additionally, they purchased the building across the street that formerly housed The Music Exchange, and when complete, there will be several nicely renovated apartment units upstairs and retail space on the ground-level of that building. To your right, see this space all dressed up as our "Black Light Art Experience" on New Year's Eve. Thanks to Innovation Technology Properties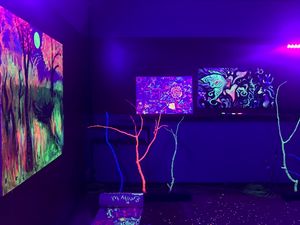 for allowing us to use the space! 
By the time all of these development projects are complete, there will be upwards of 25 newly and nicely renovated apartments available in the neighborhood. There is already a great residential community beginning, and to add to that-our assistant city manager Mike Webb will be moving in this month! That, to me, is the kind of bold action that we need. Thank you to Mike for setting an example of how we must be the change. Mike joins us in our growing residential neighborhood at a time when we will soon bump into each other at the coffeeshop in the morning; this is the type of community we've been waiting on for a long while.  
Multiple new businesses have opened since the last edition of this blog and several are innovating and expanding.  
Holler Contemporary Appalachian Art Gallery opened its doors to a beautifully renovated gallery space. White walls and a sharp, modern feel punctuate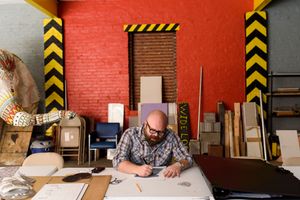 this space. The gallery, the brainchild of the remarkably talented Chase Bowman, has brought us several exhibitions, drawing classes and a raucous art throw-down called "Feud in the Holler," complete with bluegrass music, where participants are given a surprise theme and art supply, and one hour to create a work of art. The audience votes and crowns the royalty. The talented Rita Montrosse was crowned Queen of the Holler at the first one, only to relinquish it to Chris Demario at the next feud. The surprise themes were "Cowboys in Space" and "Dinosaur Battle."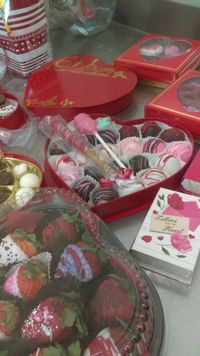 Coal Country Kandies opened its doors and has delighted our community with their amazingly delicious sweet treats and an even sweeter mission. Lisa Bearmann's son Tyler suffers from Cerbal Palsy, and Lisa wanted to give him opportunities to work and interact with the community. He spends a good deal of time at the shop helping out, and Lisa hopes to eventually hire more people with challenges like Tyler's. Their shop features every kind of bon bon you could imagine and, let me tell you-they are overwhelmingly delicious, to the point that I have to really pace myself and budget my trips down the street. They also have chocolate covered marshmallows, cupcakes and they sell their signature product which they manufacture and distribute all over the state and even nationally-Lisa Dawn's Coal Candy. We are so lucky to have them in the Grassroots District!  
Next, we welcomed Black Steel Arms & Coatings at 747 Mercer Street. Lee Thorton and his brother opened this shop to accommodate their growing gun customization business. Using Cerakote, a ceramic based finish that can be applied to metals, plastics, polymers and wood, they create unique and intricate designs. But this is not just a gun shop; they also customize other items such as Yeti cups, car headers, spatula sets for grills, luggage tags, jewelry holders, wine boxes, ceramic cups and more. In addition, they offer coffee and community. Lee, a veteran, has a passion for helping fellow veterans. He likes to offer a place of solace for them where they can sit, talk and feel welcome. He offers free coffee to veterans, EMS, fire and police departments. And, the coffee is excellent. They are partnered with another veteran-owned business "Black Rifle Coffee," and believe me, this stuff is super fuel. 
Danny's Bar & Grill stepped up their food game; they now offer daily lunch specials and a wider menu variety. The food is delicious!  It's hard to believe they are able to create such amazing food in their tiny kitchen; it's truly a feat. My favorite is the Reuben with fries. Yummmm. They also got some new arcade games in the back room, including pac man and pinball; upgrade!  
In our last blog, we reported that The Hatter's Bookstore was experiencing hardship and was looking to sell the business. Well, a turn for the better changed that, and the bookstore is still alive and kicking! They've hosted book signings with local authors, and their popular coffee makes many regulars happy. They have a variety of fun gifts like local jams and specialty hot chocolate. Delightful!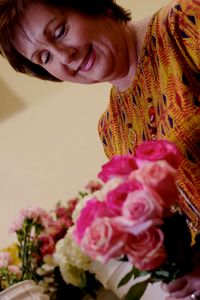 Myra's Flower Shop is expanding! She has acquired the space next door and will soon fill it with her beautiful floral arrangements and gifts. This business is a great example of "Ask not what your neighborhood can do for you; ask what you can do for your neighborhood." Myra came here with the specific intention of "Helping Mercer Street Bloom," and she is  certainly living up to that. Her established clientele followed her here, and everyone on the street has benefited from the presence of this creative business. Her window displays brighten up the block. I personally adore their rainbow roses.  
RiffRaff Arts Collective is growing and evolving; our Art Boutique is expanding with new items and artists and has a great manager now, Miss Briddy.  We've hosted events in the boutique such as Winter Wonders, concerts in The Room Upstairs in addition to our weekly Open Stage Nights, and we're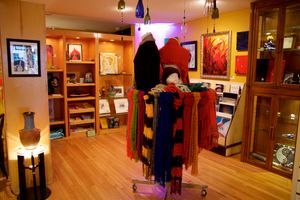 hard at work putting the last touches on our state of the art recording studio. We've also been busy touring WV with our program "Create Your State,"which inspires and empowers creative community development, so that we can share what we've learned from our work here in Princeton with other communities. This March, we'll be in Mullens, Beckley, Morgantown, Elkins and Montgomery; anyone is welcome to join us if you're interested in hearing our story.   
Stages Music School hosted the 3rd annual Wipe Out Bullying Back to School Bash in Dick Copeland Town Square, complete with a water slide, volleyball net and excellent, moving performances by The One Voice Project. Sheriff Tommy Bailey and prosecuting attorney George Sitler came to show their support. These students are remarkably dedicated to using their music to make a difference. Later in the year, Stages produced the "Small Town, Big Talent" concert, which raised funds for a variety of charities. The Chuck Mathena Center generously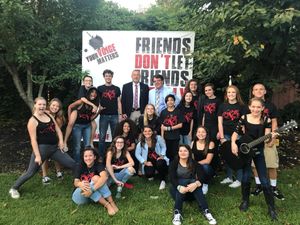 donated their space for the cause. Students from Stages also released new music videos this year; one, by the young girl group 34 Adonai, received 20,000 views in 24 hours! Watch the video here. These kids at Stages are crazy talented and they bring so much light and energy to our neighborhood daily. 
Explore! Adventures in Science brought us programs like Candy and Food Science and Chemical Illusions; exciting and educational for all! Princeton Public Library has been presenting a broad variety of programming from beginner's yoga to Lego clubs to adult coloring sessions. New River Community & Technical College hosted a Business After Hours in November, and Valley College continues their programming. The Golden Rule Montessori School continues to bring holistic, progressive education to its students.  
Service Cleaners changed hands this year. It was bought by the sweet hometown girl, Vicky Bridges. She has big plans and is excited to be a part of this development. New Kids on the Block Consignment Shop continues to stock great deals. Diamonds & Gold Look has introduced multiple new websites into their online sales platform, and they continue to stock unique items at great prices. In addition, they've been hosting events such as Ladies Night, paint nights and more. Associated Photography, one of the longest standing businesses in our downtown, continues to provide outstanding framing, portraiture, print services and photography instruction. The camera club meets once a month there and regularly takes interesting photo excursions. Freddy Modad is still rockin' in his music school as well as his bar Sam's; they have live music every weekend, without fail. The Wearhouse has a variety of new items in stock from WV themed products to beeswax balms and more. Salvation Army serves our community with their extensive thrift shop. Tony's Barber Shop stays busy with back to back clients, Hair Station continues their work after decades of presence and The Lady Project Boutique offers unique pampering. Granny's Sewing Room continues her decades-long tradition of serving quilters and seamsters. Total Health & Healing Concepts is alive and kicking; the owner Nancy serves her clients with alternatives to mainstream medicine. ResCare continues to offer their services to the community and recently introduced their "Blessing Box." It's there on an honor system of "Take what you need, give what you can."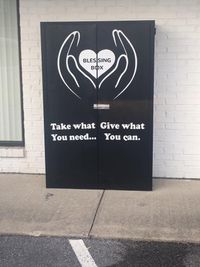 What a beautiful gift to give.  
First United Methodist Church has been active in the new life of our neighborhood; they participate in our events and take pride in the new identity of our district. They are also very creative! They recently hosted a weaving class, and delivered hats and other warm goods to those suffering from homelessness. And, one member of their congregation, Jamie Biggs, will be showing his art at Holler beginning February 1.
Down in the Historic District, the Princeton Railroad Museum is still seeing record numbers, and the model railroad project has just gotten a major boost... the board game Princeton-opoly was a huge hit! Featuring local businesses as the properties, the game was custom-made for our town, and they sold out quickly. Those funds will go towards the completion of the ever-popular model railroad, which will become a big attraction. Talented local artist Dan Hozier is working diligently on the project. Also in the district, businesses like Kidz at Heart, Hillbilly Cycles, The Bronze Look and more are still going strong.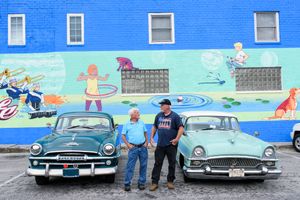 Cool Cruisin' Nights continue to be extremely popular and are growing all the time. Generations are converging as baby boomers introduce the millennials to their bygone pastime. The events are like big block parties; everyone meets in the streets and shares connection and conversation; it's a great time. If you haven't experienced one yet, grab a lawn chair and come on down! The first of this season is set for Saturday, May 19th.  
Annual fall events were successful: thousands packed the street for Autumnfest as always, and Mercer Monster Mash saw thousands of trick-or-treaters and some awesome costumes. Doc Atwell of Star-95 makes the costume contest a truly special event. 
The community garden had some loving helping hands this season. Becky Kidwell tended the garden and Paul Orten loyally volunteered to help her at every turn. There were some unique varieties of vegetables and the flowers bloomed beautifully. This year, the garden is actually experiencing some pretty major changes. The lot it has set on for the past five years is getting ready to be converted into a patio for Sophisticated Hound. Main Street Builders assures us that a new location for the garden will be provided, so while we will miss the growing season this year, a new location will be announced very soon. Please stay tuned. It is sad to see the garden go, but we are making way for progress, and we must be open to change as downtown evolves. An outdoor patio has been something many people have wished for, and we needed to allow it to happen.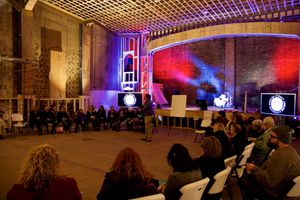 On November 16th, we gathered together in The Renaissance Theater to celebrate the work that's been done and what's to come. About 50 people came together to witness a retrospective of the history and evolution of downtown, and the revealing of our new identity, The Mercer Street Grassroots District. The new brand was presented with a special video; watch it here. Businesses from the neighborhood introduced themselves and told us about their visions and plans. Then, we envisioned the future together in an exercise led by community coach Eric Pories of the WV Community Development Hub. We are greatful to have the Hub and their programs to guide us through this development. First, it was Blueprint Communities and now, we're a part of the HubCap Communities of Achievement program. A team of us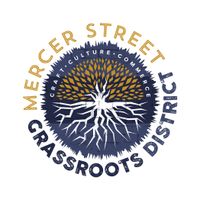 are creating an action plan, fueled by the input we gleaned that evening, and we'll invite the community back again around May to examine that plan and give input. Stay tuned for that date and plan to join us! In the meantime, we host regular community conversations-casual discussions about downtown development. Everyone is welcome to join us! We'll discuss any idea or concern that you have. All that's required is a positive attitude. Stay tuned to our Facebook page for dates and times. 
The theater has had a big year of progress, getting all new plumbing, a new marquee and a beautifully framed interior. Fredeking & Stafford's crew is amazing, and they have given so generously. The plans are all in place for completion by ETBoggess Architects; all that is standing in our way now is the funds to finish. There are a few grant possibilities hovering on the horizon, and we have bright hope that it will come together soon. However, we still need all the help we can get. So, if you are able to give, please do so. Every dollar counts,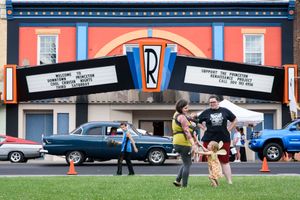 and we will put it to excellent use! Visit the "Donate" page of this website if you are interested.  
Christmas was memorable this year and full of new traditions. The City of Princeton placed their new decorations, colorful & bright, as well as a new tree in the fountain area. Beckley Kidwell, Marqueta Mathena, Greg and a few volunteers decorated that tree and it was absolutely beautiful twinkling there near the fountain, providing a centerpiece for our holiday. Merchants decorated their storefronts, and we began to feel the comeback of that nostalgia that people remember from back in the heyday. It's not what it used to be, but it is growing!  We can expect more of that in years to come. Students of The One Voice Project at Stages Music School hosted a holiday meal for those less fortunate, and Service Cleaners turned an old
building into the North Pole and gave orphans and victims of domestic abuse a magical Christmas. We love our generous, loving community.  
A milestone moment for Princeton Renaissance Project was receiving in the mail a copy of The Benedum Foundations's annual report, with downtown Princeton on the cover and featured in a 10-page spread. Check it out here. That was major affirmation for us as a movement to know that we are making such an impact. We are ever-gratetful to the Benedum Foundation for funding The Hub, their programs and so many other programs from which we have benefited in our development, like workshops, strategy sessions, technical assistance, mini-grants and so much more. The work is paying off, and we will see the fruits of our labor, we will.  
We finished the year with the city approving the location for the new police substation at 746 Mercer Street, in the old Virginian Hotel. The lease was signed in early 2018. This long-standing goal we, as a community have had, is finally coming to pass. I assure you, this is the first of many. 
We are standing on the cusp of a breakthrough, ladies and gentlemen. Goals are being met, dreams are coming true. It is happening! 2018 will be an exceptional year in The Mercer Street Grassroots District. Thanks for following us and being a part of this journey.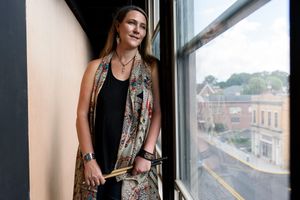 By Lori McKinney, community organizer 
published January 21, 2018 
photos by Robert Blankenship, Richard Hypes, Rebecca Kiger, Greg Puckett and some contributed. 
****************************************************************************************************************************************