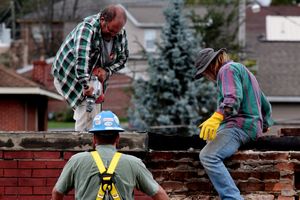 It's a crisp Autumn morning and I woke up to the sounds of heavy machinery backing up and hydraulic lifts raising workers to the tops of historic buildings downtown. Ahhh, it's music to my ears; the sounds of progress! I'm preparing for a big concert in The Room Upstairs tonight, and looking forward to eating a delicious lunch at the new Bucha Brewhouse & Bistro, and an exciting weekend full of cruising, music, workshops & more right here in our neighborhood. 
It's been several months since my last edition, and let me tell you, this is going to be a long post. I know it will to take a while to read, but I want you to be completely informed. So much has happened, and so much is currently in the works. 
Since my last blog, there have been 8 grand openings and 5 construction projects underway, and 5 businesses are now preparing for launch. The defining memory of this chapter downtown has been the buzz of community felt among the construction crews and business owners. As I walk out my door and down the street, in my head I'm humming "Who are the people in your neighborhood," from Sesame Street, and I'm enjoying the heck out of waving at Will, Lee and all the construction guys on the sidewalk, watching Myra's Flower Shop load their van for a delivery and running into the other merchants at the bistro. There's a genuine camaraderie and a spirit of excitement as the work continues. The long recognized potential of this stretch of downtown is now being realized. 
After an arduous development process, The Gaia Den yoga and healing arts center opened its doors in the spring at 222 Mercer Street in the Historic District. The space is a beautiful,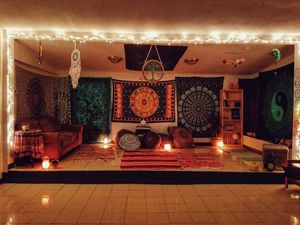 sacred environment for yoga and meditation and provides a much-needed center for out-of-the-box exploration of healing. Since opening, owner Joanie Bailey has hosted a variety of workshops, from chakra meditation to belly dance, paint nights, and "Den Days" open houses which showcase retail and allow for relaxed "hanging out" time in the comfortable atmosphere. The opening of The Gaia Den has been profound for many. Regular attendee Savanna Perkins says, "The Gaia Den provides a space of healing, calm, and love for our community. My week is incomplete without a class!" 
Sophisticated Hound Brewing Company opened its doors in the Grassroots District and changed the game for our downtown scene in June. Someone remarked that standing in Mercer County's first brewery feels like you're standing in a bar in SOHO; you could be anywhere, any major city, and here you are in Princeton, West By-God. The food is top notch, the beer and wine are delicious and effective, and the atmosphere is on point. Live music every Saturday makes a happening scene, and the unique,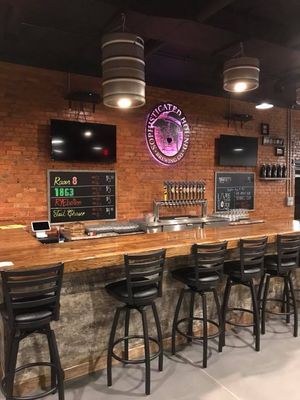 homegrown features define the place with local character. The hound-shaped taps and beautiful metal woodworking were crafted by local artisan Michael (Goose) Sizemore, who also painted a mural in the neighborhood and is responsible for several sculptures around the street. The WV-shaped wooden flight trays, the growlers and several other items were made by another neighborhood business, Black Steel Arms and Coatings. (This veteran-owned business offers a super wide variety of personalized items!) In August, The Hound's outdoor patio was christened by the female dominated funk band The Change from Stages Music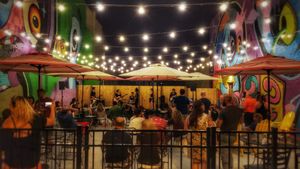 School just a few doors down; it was an awesome night and marked the beginning of an exciting new chapter. This is a game-changer for downtown and has set the pace for what's to come. They are currently open on Saturdays as they upgrade their equipment and brewing capacity, but stay tuned for an announcement very soon about expanded hours. For those of you curious about the fate of the old Jimmie's Restaurant next door, I can report that construction will begin in early 2019. The young entrepreneur is Michael Whitley, and he is excited to launch the endeavor in partnership with Main Street Builders. Ideas include a shared social seating area between the two businesses. Stay tuned! 
Starry Eyes Media celebrated their Grand Opening in April. The talented husband-wife duo, Brandon Gilbert and Cecilia Thompson, lead a team of media makers in creating websites, graphic design, print collateral and all kinds of branding and marketing materials. Their Princeton office is their second location; with an office in downtown Oak Hill, their Southern WV footprint is growing. With their dynamic creative business, they bring youthful, entrepreneurial spirit to the neighborhood, and this energy is known to multiply! They attracted their good friend Kayla Alred, knowing about her dream to open WV's first kamboucha tea brewery and sure enough, Bucha Brewhouse and Bistro opened doors in late September, just in time for Autumnfest. Their food is superb, and something we've all waited for. The salads are honestly the best I've ever had, stacked with items like roasted brussel sprouts, summer squash, walnuts and homemade dressings, all fresh and sourced from the Farmer's Market as much as possible. These young entrepreneurs are committed to fresh, locally sourced ingredients and boy, do they know their way around flavor. Everything I've eaten there, from my creamy mushroom soup full of large chunks of a variety of mushrooms, to the herb crusted pork panini with jalapeño jelly and bacon jam to the delicious and healthy kamboucha tea flavored with hibiscus, lemon and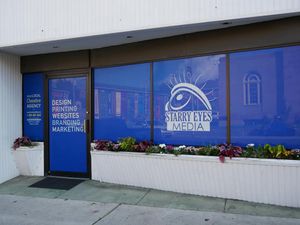 blackberry, has thrilled my taste-buds. I honesty can't even tell you how much this means to the people who live and work in this downtown; it is literally life-changing. This restaurant is located at 957 Mercer, right across from the library, in the space that once housed Coal Country Kandies. But no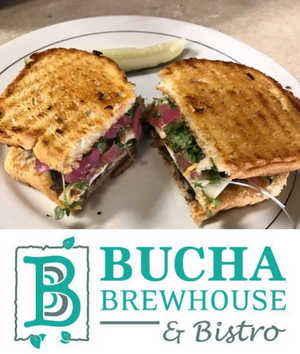 worries, CCK has relocated to the Historic District and expanded their operation! They moved into 301 Mercer, where they have a larger space, and they now serve lunch and dinner in addition to their delicious dessert selection. With items like chicken & dumplins, brown beans and greens, it tastes just like Grandma's house! They offer an unbelievable selection of desserts and treats, and are a wonderful solution for holiday gatherings, or any meeting you feel like spoiling attendees at! A few doors down from CCK, The Bronze Look debuted their Art Cellar, a beautiful showcase space, and talented local artists Promise Sloane and Trey Snyder opened a beautiful show to a great crowd this fall. They currently have a call out for young artists, whose work will be showcased in early 2019. Promise has also been leading paint nights at Diamonds & Gold Look in the Grassroots District. Both shops have been busy with a slew of special events and promotions like Shop with a Buddy and Women's Night Out. The multifaceted enterprise also started a newspaper, wvtnews.com. And just today, they announced that they have branched out into women's fashion! There's a variety of clothing and accessories to shop in the store now, and it has the distinct feeling of a department store. 
Down the block, Princeton Police Department opened their long-awaited substation in late March. This is a significant accomplishment and a longstanding goal realized. The community asked and the city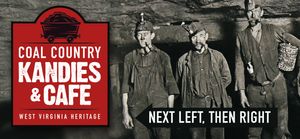 answered! Community Connections joined forces with them to present the Police Explorers Program on Saturdays at the new substation, exploring topics from prescription drug abuse to bullying and helping kids feel more connected to local law enforcement. The program is ongoing; check out CCI's facebook page for exact dates and times. Next door to the substation, WUFU Tatoos opened a beautiful, appointment-only studio. These guys are gifted artists and have brought fresh energy to that storefront! On the other side of the street, New Kids on the Block Consignment is under new management. The new owners are excited and have been sprucing up their storefront windows and refreshing stock. Salvation Army Thrift Store is also getting some fresh new blood; Jane and Dennis Smith are the new Lt. Colonels of the organization and, with Dennis's background in marketing and a creative side to both of them, they are eager to bring a fresh new spirit to the already popular shop downtown. Wearhouse Clothing Co. has remodeled! Stop in and check out the new arrangement of the counter and machinery, and gawk at the enormous amount of inventory they have; it's like a giant department store full of monogrammed hats, glittery backpacks, WV apparel and so much more. Video Station opened its doors at 400 Mercer, offering a nostalgic experience of the bygone Blockbuster Video days. They offer a large selection of DVD's and fresh popped popcorn! Nearby, Simply Beautiful cut the ribbon to their lovely new salon, after a swift and thorough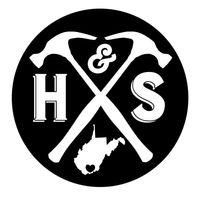 renovation to 852 Mercer by Lee and Kristen Lewis, Zane Shuck and a wonderful crew. Above the salon, several newly remodeled apartments are ready for rent, and they continue to work on the 16 units in the old "Von Court" building across the street. In the retail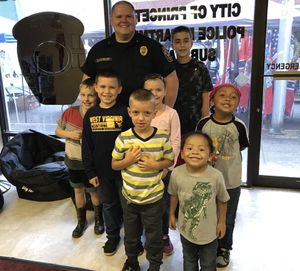 space downstairs, yet another new business is preparing to open, with a full scale redevelopment project paving the way. The spot is 847 Mercer, sandwiched in between Stages Music School & The Renaissance Theater, and the business is Hammer & Stain, a DIY woodworking shop where guests transform unfinished wood into wall worthy pieces. A creative social experience, this biz is going to be fantastic for bridal showers, family gatherings, or just a night on the town with friends. This adds to the list of enterprises offering experiences downtown. Folks, this is what we have to focus on; what can you not get at Walmart or Amazon? Real, creative, human experience, in my opinion, is what the world is missing these days. Everyone is so lost in their electronic devices that we lose that interaction with each other. Creative experiences like these offer us a chance to plug into something real and valuable, and remember that we are alive!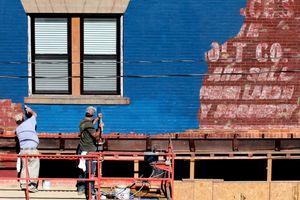 Just across the street, Blue Ridge Bee Company is busy plowing through extensive renovation of the building at 858 Mercer and preparing for the opening of their shop which will be an old-fashioned mercantile, selling beekeeping equipment as well as farm fresh products and eventually, ice cream. BRBC is at the forefront of beekeeping, helping assist the honeybee population with their proprietary technology, an Oxalic Acid Vaporizer which keeps mites away from hives. This business will be a major attraction to our downtown, and a trend-setting demonstration of an agricultural enterprise contributing to tourism. No doubt, people will travel to this place, and that will be a boon to our downtown. Their storefront is going to be absolutely gorgeous. Already, the transformation of the facade has begun, and has shifted what was a run-down eyesore that remained stagnant for years. I remember the moment I walked out my storefront to attend the ribbon cutting for Simply Beautiful, and saw that the crew had torn through the walls to expose a historical sign that had been hidden underneath for years. I saw city councilman Tim Ealy that day and he said, "You know when someone's tearing through a storefront that things are getting real." 
Next door, there's another exciting development in the coffee department. We've all been waiting for a coffee shop for a long time. As fate would have it, the original business that had planned to open at 860 Mercer was unable to continue with the project. While he and his family were sad to let go of the idea, serendipitously, the perfect opportunity showed up! A wonderful man named John Bounds was turned onto downtown Princeton by his good friend Vicki Nelson of Service Cleaners, and he inquired about opening a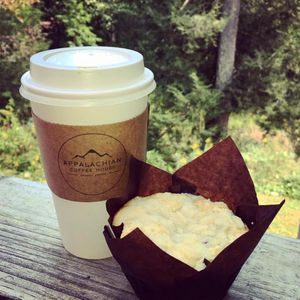 branch of his highly successful Appalachian Coffee House here. John took over the space and was able to relieve the former owner of his stress, and voila! We have a new Appalachian Coffee House!!! This will not be his first rodeo; in fact, this will be his third location; he has a shop in Mt. Nebo and another in Summersville Hospital. We're thankful to have intercepted John and are excited to celebrate another Grand Opening very soon, definitely in time for pumpkin spice, he says. 
Another salon, Grace & Glamour, is preparing to open in The Historic District, and a new gym- Average Joe's Barbell Club- is preparing to open within weeks at 1201 Mercer. You'd be surprised to know how many businesses actually exist on Mercer Street now. When you look at it in writing, you realize that this is not just a vision anymore; it's a reality. Mercer Street has become a viable stretch of commerce, and it's just the beginning. Check out this complete list of downtown merchants: princetonrenaissanceproject.org/businesses. 
First United Methodist Church knows how important these businesses are, and why downtown matters, and they continue to be very supportive of the efforts. This summer, their staff prepared and delivered bagged lunches to all us business owners in the Grassroots District with a sweet note of appreciation. That gesture went a very long way; One business owner said it was the best moment of her summer; you can't overestimate the impact of letting someone know they are valued and honored. 
Stages Music School continues to breed rock stars. Daily, these bright young artists populate our street. This spring, once again, they took their show on the road; the One Voice Project anti-bullying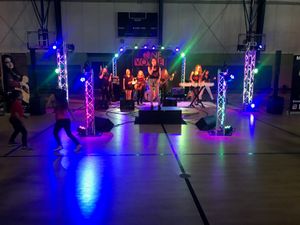 schools tour went to Orlando this year, performing 2 shows each day to Florida high schools and junior highs delivering their message of kindness, acceptance and empowerment. Students are now gearing up for their annual "Small Town, Big Talent" competition in partnership with Chuck Mathena Center and today, they are performing a special "Spooktacular Musical Showcase" in celebration of Halloween. In March, One Voice artist Jedah Palmer was selected by Alicia Keys to be on #teamalicia on The Voice on Snapchat! They flew her to Hollywood and she experienced the week of a lifetime. In the end she didn't go past the battle rounds, but her mark was made, and her star was stoked by meeting one of her idols. 
Holler: Contemporary Appalachian Art Gallery has had 3 show openings since my last blog including one commemorating its one year anniversary, featuring the amazing Rita Montrosse who, along with her late husband Charlie Switzer, made this gallery possible. Each show has been thought-provoking and visually stimulating, and has drawn a nice crowd of thankful and inquisitive art lovers. We are very lucky to have this gallery in our neighborhood; its mission to amplify marginalized voices and allow Appalachians to tell our own stories is commendable and much-needed, and many are taking notice. Holler was featured in a substantial story in WV Living Magazine recently and owner & curator Chase Bowman currently has a solo show of his own at the Clay Center for the Arts in Charleston; he is the first West Virginian to have the honor of showing in that museum space. 
Here at The RiffRaff Arts Collective, we've hosted unique concerts in The Room Upstairs from Australian hand-pan player Benny Bettane to Chicago-based Americana band Way Down Wanderers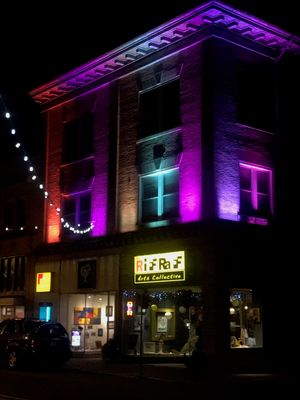 and workshops from West-African drumming to up-cycled art. We hosted a film screening of "Cornered," a feature film about a boxing in McDowell County by local filmmaker JD Belcher and an improv comedy show by The Fearless Fools. We continue to host our weekly Open Stage Nights every Monday, and our Art Boutique continues to showcase products from over 30 artists and craftsmen. We hosted our 15th annual Culturefest World Music & Arts Festival in Pipestem this fast fall; that event is like a holiday for our creative community and was the start of everything for us. My husband & creative partner Robert, whom many lovingly call "The Wizard of Mercer Street" for his amazing technical aptitude and creative mastermind, brought new color to our building this fall.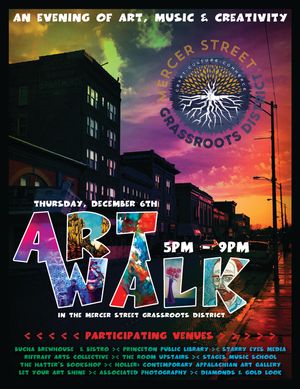 These lights are temporary, but watch for permanent fixtures to appear on our building that will hopefully spread throughout the block in the near future. He has a vision for color-themed lighting that could paint the whole town. Stay tuned! 
The rebirth of the downtown was stoked by the arts. What was once a forgotten stretch of town was a blank canvas to those with creative vision. We celebrated the 10th annual All Together Arts Week this spring; the mission of the event is to showcase and also bring the creative community of Mercer County together. One of the best days of the week is the epic Grand Finale Parade & Day of Merriment, which brings joyful, whimsical energy to Mercer Street. A newer tradition is the annual gallery hop on a special trolley, which is always a blast, and a time for folks to discover all the creative venues our scene has to offer. The trolley always makes a stop in downtown Princeton, and with each year, there is something new to discover. Watch out for All Together Arts Week in May 2019! In the meantime, several merchants in the Grassroots District are collaborating to present our very first ART WALK December 6th.  The night will feature several art displays, live music, wine, food and fun. We plan to host them quarterly; please plan to join us! 
A wide variety of town-wide events have happened since my last post. Celebrate Princeton Street Fair was a blast; thousands of people packed the street and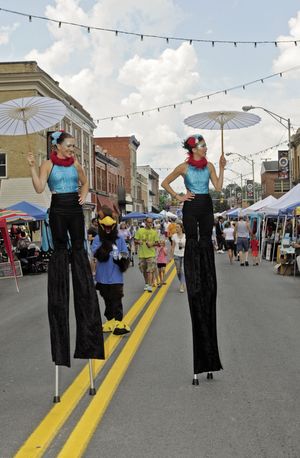 enjoyed captivating performances by Imagine Circus, over 100 vendors, tons of live music and dance performances, games and so much more. 
Cool Cruisin' Nights took place monthly beginning in March; they are fun, community-building events. The atmosphere on cruise nights is so alive, and people of all ages are out on the town; parents are telling their kids stories of their glory days, and sharing the fun of cruising the strip. Whether you are a car lover or not, these are just fun nights on the town. The Creepy Cruise was especially enjoyable, with cleverly decorated cars, costumes, dead guys on car hoods, clowns hanging out of windows and zombies wandering the streets. The cruise-in was also the final stop of the inaugural Highway 52 Cruise organized by Senator Mark Maynard that started in Kenova and traveled all the way to Princeton! Nightlife at Sophisticated Hound, Danny's Bar & Grill, and Sam's Bar adds to the choices for folks who want to make it a night on the town. Danny's hosts consistent parties and offers great lunchtime fare. Sam's Bar at the other end of the street hosts live music every weekend,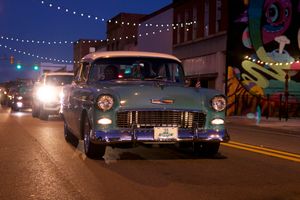 and has been a downtown mainstay for decades. 
Community Connections and Princeton Public Library teamed up to host "Cinema in the Square" several times during the spring and summer season, showing movies like Disney's Coco and Ghostbusters. The Hatter's Bookshop has hosted several book signings by local authors and has several more planned in the coming months. Rotary Connect hosted the Ultimate Tailgating Experience at Sophisticated Hound to benefit NC Flood Relief. Autumnfest was extremely well attended. Thousands packed the event, organized by Princeton-Mercer County Chamber of Commerce, which included a pie-eating contest, pumpkin painting, bounce houses, hundreds of vendors and festive seasonal fun. 
Golden Rule Montessori School has been busy with all kinds of wonderful activities for their students and families including special science nights, and has recently hosted a tour of a traveling planetarium! This museum-quality walk-in dome has thrilled hundreds of young people in our area. 
Princeton Railroad Museum hosted a WV Day celebration featuring costumed storytellers like Abraham Lincoln, horse and buggy rides and trolley rides to all of Princeton's museums. It was very well attended. The Railroad Museum continues to see wonderful success with their attendance and starting November 1, it will have expanded hours, open Monday-Friday from 10-4 p.m. and Saturday-Sunday from 11-4 p.m.. Local artist Dan Hosier continues to work on the model railroad; it is ever expanding! Stop in and check it out! A few doors down, Hillbilly Cycles is gearing up for some major aesthetic changes to the front of their building; it is going to positively and dramatically alter the face of that stretch of historic buildings. There are lots of exciting possibilities in the works in The Historic District; we can't fill you in just yet, but stay tuned for some groundbreaking announcements this year. 
On the other end of the street, Princeton Public Library has consistently presented a wide range of wonderful programming for the community. From anime sketching to beginner's yoga to lego building, there is something for everyone, and it's all free! What an amazing asset we have in PPL; it is rare for a town of our size to have such a remarkable library. They are gearing up to host Life Sized Candyland on Halloween night, as part of the Mercer Monster Mash. MMM will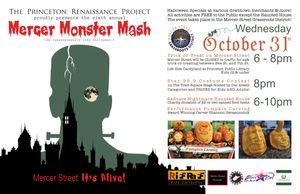 include Trick-or-Treat on Mercer Street, where over a dozen merchants will be open late giving out candy and hosting special events; Bucha Brewhouse will host a Murder Mystery where guests follow clues to solve the case and win prizes. Star 95 will host a costume contest with cash awards for children and adults, and Rescare will present their epic annual haunted house, ReScare Nightmare. Hatter's Bookshop will host their popular "Tootsie Pops and Photo Opps." And *new* this year, we will feature award-winning performance pumpkin carver Shannon Gerasumchik; he will carve pumpkins all night near the Renaissance Theater. Shannon was on Season 7 of Halloween Wars on the Food Network! This should be an exciting addition and a super fun night for our neighborhood. These events are a great way for the community to come together, and we would love for you to get involved! 
Over the past 5 years, we have hosted periodic and regular Community Conversations, where everyone is invited to get involved with downtown development. You are welcome to join us, whether you only have time to give input, or you are able to volunteer for the special events. The next conversation is on Wed, Nov. 14th at noon at Coal Country Kandies; please plan to join us! A few times over the course of the years, we've hosted special versions of these talks. Last November, we hosted a Community Conversation & Celebration in the theater, where we gave a retrospective of the work that has been done up to this point,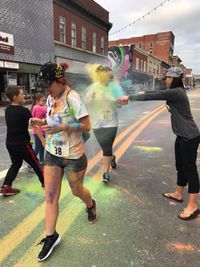 and envisioned the future together with help from our community coach Eric Pories of the WV Community Development Hub. A group of about 50 folks gave input on what they would like to see happen next, and then a core team spent the next several months in the Hub's Communities of Achievement program creating a "Performance Agenda" document to guide the work. This past summer, we held a Community Conversation & Activation to share that plan, and recruit task groups to tackle some of the specific goals. About 40 people gathered together and gave some great insight, and many signed up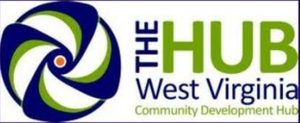 to work on specific parts of the plan. We're pleased to have involvement from Valley College, New River Community & Technical College and Concord University. All of these institutions have been very supportive and have been eager to find more ways to connect with our downtown scene. When community members gather and talk about what they'd like to see happen downtown, certain ideas emerge as themes that recur over the course of time, and when the right energy is in place and the people are driven to make it happen, the idea manifests into reality. Over the years, many people have talked about the value of people walking downtown, and how that positive energy can drive out the negative. The more positive energy we have on the street, the less likely nefarious activities are to take place, and the more the darkness disappears into the shadows. Now, every Tuesday and Thursday at 10 a.m. and 5:30 p.m., walking groups are meeting at the fountain near the post office and taking brisk strolls to the railroad museum, and other parts of town. They're walking and talking, making friends and helping bring healthy new life onto the street. If you'd like to join us, follow the groups on Facebook at Step Into The Future: Walking Groups on Mercer Street. Other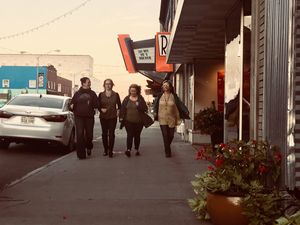 groups have been running and bringing healthy lifestyles initiatives through town for various causes. Community Connections had a Color Run for their wonderful program Camp Mariposa, which supports young people who are suffering from the effects of addiction in their families. Soon, the City of Princeton will be placing doggie waste receptacles along the street to signal the dog-friendliness of downtown and encourage responsible ownership. Many in attendance at the conversation were eager to become involved in the theater. They learned that right now, the project is basically on pause until the funding for the theater comes through. Once the funding is in play, the renovation will occur relatively quickly, as the plans and builders are all in place ready to finish the job; all that's missing is the remainder of the financing. In mid-September, several of these volunteers gathered at the theater, and led by Greg Puckett, gave the space a much needed cleanup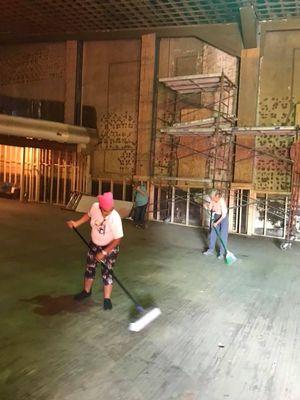 so it could be nice & spiffy for tours at Autumnfest, and be prepared to intercept the next opportunity that comes our way. 
Speaking of Greg Puckett, I'd like to acknowledged the remarkable efforts of this man. Over a decade ago when we planted roots downtown, several of us artists were waving our arms around saying, "Hey! Look what's possible! Look what we're doing down here; join us and help!" It was like moving mountains really, and while there was a core group of supporters who got it and were very loyal in their support, no one in leadership was taking us seriously or doing much to help. Greg Puckett did. He recognized the potential of this work and he wholeheartedly supported us. In 2013, Greg practically dove into downtown. His organization Community Connections lent their full capacity to these efforts, and it was that partnership that caused the momentum to accelerate and this full scale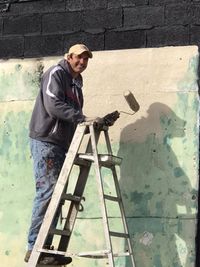 transformation to become possible. So many people are content to just sit back, talk about what's wrong with the world, and complain about how "someone should fix that." Others, a more rare breed, are willing to roll up their sleeves and "Just Do It." Greg is one of them. You may remember that there was once a tremendous eye sore when you first come in to town where a service station had been; it had become somewhat of a joke; you'd drive into town and approach a sign that Greg and the hard-working volunteer Jennifer Farmer had painted that says "Welcome to Downtown Princeton" and then immediately be confronted with a gaping parking lot of debris, trash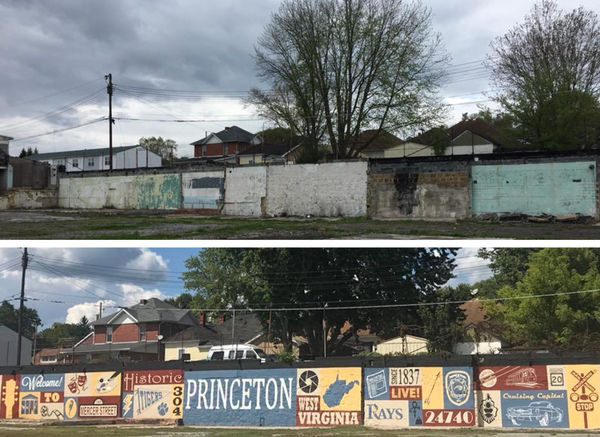 and dilapidated walls. We all knew there was potential for development but that it was a long ways off. But, this was an aesthetic emergency, and Greg knew it was holding the whole process back. And so, being the do-er that Greg is, he rolled up his sleeves, bought some paint, and donated his time to create a masterpiece where there was once an impossible situation. And that's the theme of this entire journey, folks. Some said it was impossible, others said we were crazy. But nothing is impossible, and if crazy is believing we can change the world around us, then that's what we are. We believe in this work; we believe in the power of possibility and the power of a dream. And, we will persist. We will not give up and we are enjoying immensely the feeling of watching the fruits of our labor grow. 
As we prepare to ring in another new year here in the Mercer Street Grassroots District, we are ready to take on the challenges and rise to the occasion. 
Won't you join us? 
Upcoming Events: 
Every Monday Night- Open Stage Night in The Room Upstairs 7 -11 p.m. 
Oct. 31 - Mercer Monster Mash  6 - 10 p.m. 
Nov. 4th - Gather Hear Piano Concert -w- Miki Sawada at Stages Music School  2 p.m. 
Nov. 14th- Community Conversation at Lunchtime at Coal Country Kandies 12 p.m.
Nov. 26 - Christmas Parade 6 p.m. 
Nov. 27th - Developer's Tour (Call 304-320-8833 for info.) 
Dec. 6th - Art Walk  5 - 9 p.m. 
Dec. 31 - Downtown Countdown- a Winterfest Celebration 
Please stay tuned to the EVENTS pages on PRP & Grassroots District Facebook for a more extensive listing of happenings.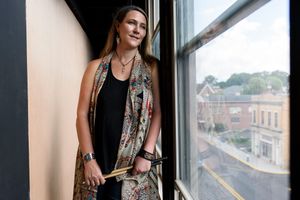 By Lori McKinney, community organizer  
published Oct. 28, 2018